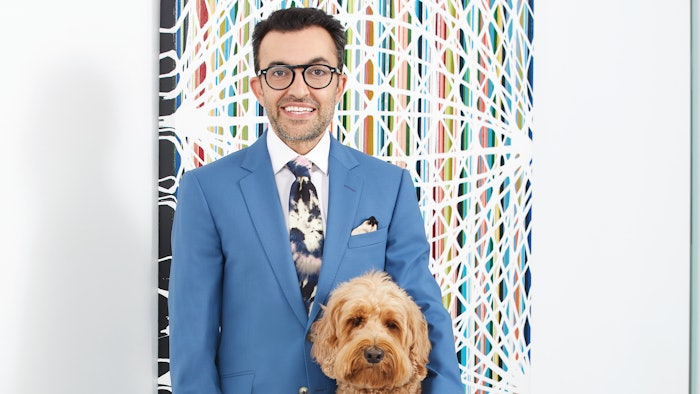 Photography by Armando Sanchez
While some people aren't sure what they want to be when they grow up, that was never a problem for Arash Moradzadeh, MD, an otolaryngologist and facial plastic and reconstructive surgeon, who had dreams of being a doctor as young as 5 years old.
"The elementary school I went to was a science magnet, where you studied the anatomy of animals at a very young age, and that just set off my curiosity," he explains. "Over time, I became very interested in arts as well, so that combination of arts and sciences led me down the pathway to this career."
A Los Angeles native, Dr. Moradzadeh started his secondary education at UCLA and attended the University of California, San Diego, School of Medicine for medical school. Once finished, he completed his residency in otolaryngology at Washington University Medical School in St. Louis, focusing on facial, nasal and neck procedures.
"I went to medical school with the idea of becoming a plastic surgeon, but when I was there, I decided to be open-minded and explore everything," he says. "Each time I tried a different area, I found I loved it. But all roads seemed to lead back to plastic surgery, though I did find I enjoyed the facial procedures most. That led me to focus on facial plastic surgery."
Next came two fellowships— one in plastic surgery and regenerative medicine, and the other in facial plastic and reconstructive surgery.
Heading Back to LA
Following residency, Dr. Moradzadeh stayed on as faculty at Washington University, teaching advanced techniques in facial plastic surgery to residents. After about two years, he decided to head back to Southern California to open a private practice. That was in 2011.
He found the perfect spot in Beverly Hills and opened AM Facial Plastics. "I found a space that had excellent windows with great views of the mountains, the Hollywood sign and palm trees. That was a priority for me," he says. Though the location was exactly what he envisioned, he quickly learned that starting a new business was not easy.
"It was very difficult. You get zero training in medical school on how to run a practice or start a business," he says. "You never learn about billing, you never learn about marketing, really nothing about that side of it. So, you're just thrown into this unknown."
He hired an office manager whose ex-husband was an ophthalmologist. She had a lot of experience in managing a practice and helped Dr. Moradzadeh get things rolling.
"She taught me how to budget, what to spend money on, what type of employees you need to hire, what questions you should ask when hiring someone and how to establish relationships with various companies," he says. "Just these fundamental basics that you don't ever get trained on. She reduced the fear factor for me. If I could go back, I would have minored in business."
From Surviving to Thriving
AM Facial Plastics is thriving now, but Dr. Moradzadeh notes that it took a good five years to establish the practice and almost 10 to get to its current level of success.
To get the word out, he performed procedures on friends and family, hoping others would see the work and ask about where they had things done. "I found that very effective in bringing patients in," he says. "After that, it was more about SEO optimization, Google advertising and Facebook advertising."
He would go to other doctors' offices to introduce himself and explain his services and how he could help their patients. He also started working a few days each month in Santa Barbara, California.
"I have a lot of friends who practice in Santa Barbara, and one of them offered me some space to help build my patient base in the early phases when my practice was slower," he says. "I was using their offices on select Saturdays to offer consultations in that area and perform some procedures, so it became my once- or twice-a-month office."
His boutique Beverly Hills practice includes Dr. Moradzadeh, an office manager, cosmetic consultant and patient coordinator. "Being a leader is very difficult and something that I continuously learn how to improve upon," he says. "The most important thing is communication."
The team holds weekly meetings to reflect on the previous week and look at the upcoming schedule. "We also look at continuing education and areas for improvement," he says. "While everyone has a specific job, everyone understands everyone else's job at the same time, which I feel is important."
He considers his practice a work in progress and hopes to bring in new providers soon, specifically a nurse practitioner or physician's assistant who can help expand the practice's offerings to include more medical spa treatments. "I would like to integrate more holistic and comprehensive health and wellness management for my patients," says Dr. Moradzadeh.
"My practice has continually evolved into what I had envisioned, but it's not at the end-point yet," he says. "I intended to offer cosmetic as well as functional surgeries and to establish a large nonsurgical practice because I recognized from early on that people are looking more and more for nonsurgical alternatives."
What makes the practice unique, he says, "is that I offer a variety of options for any given goal that my patients have. It's not just one option or one device or one type of surgery or treatment."
Continue reading our exclusive interview with Dr. Moradzadeh in our Digital Magazine...
Keith Loria is a freelance writer based in Oakton, VA.