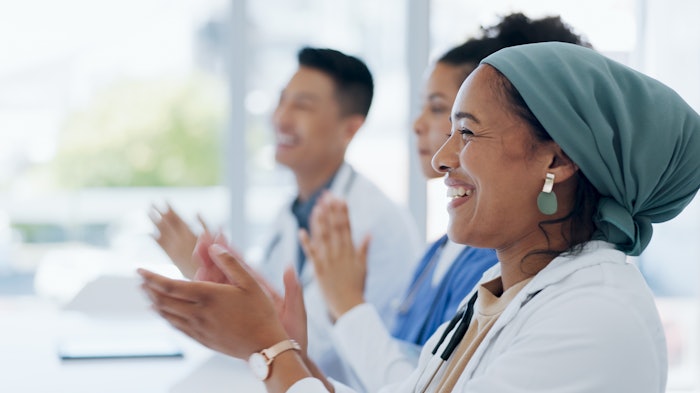 The American Society for Dermatologic Surgery (ASDS) is hosting its interactive educational course, "Masters Circuit: Energy-Based Devices and Injectables" at the dermatologic surgery practice Main Line Center for Laser Surgery in Pennsylvania on May 6-7, 2023. 
This unique learning opportunity will be co-directed by Eric Bernstein, MD, MSE, and Kachiu Lee, MD, MPH, and provide an interactive rotation experience through patient treatment rooms for up to 24 attendees. This intimate format gives attendees access to expert faculty as they share advanced insight on treatment modalities with live patient demonstrations, which will be followed by discussions with experts. 
"Attendees will experience chairside patient demonstrations in an exclusive small educational setting and build connections with the opportunity to speak one-on-one with faculty, industry representatives and peers throughout the course," said Dr. Bernstein.
Related: Top Aesthetic Surgery Procedures Projected for Continued Growth Worldwide
Expert Course Faculty
Eric Bernstein, MD, MSE: Currently serving on the ASDS/A Boards of Directors, Dr. Bernstein is often the first to receive state-of-the-art laser technologies and is a nationally recognized laser expert. 
Kachiu Lee, MD, MPH: Currently serving as Chair of the ASDS Education Work Group, Dr. Lee is a nationally renowned, Ivy-league trained expert on injectable and laser treatments.
Mathew Avram, MD, JD: A past president of ASDS/A, Dr. Avram is a renowned laser expert who has chaired 27 national meetings and has delivered over 600 lectures.
Timothy Greco, MD, FACS: A board certified plastic and reconstructive surgeon, Dr. Greco is also an expert in minimally invasive rejuvenation who is dedicated to excellence.
Kavita Mariwalla, MD: Currently serving as Vice President of ASDS/A, Dr. Mariwalla is an internationally renowned expert injector and educator.
Alison Watson, MD: Specializing in reconstructive surgery, cosmetic surgery and injectable cosmetic procedures, Dr. Watson is renowned for optimal outcomes in rejuvenation.
Brian Zelickson, MD: A Mayo Clinic graduate and Director of the acclaimed Zel Clinic, Dr. Zelickson is nationally recognized for his contributions to laser medicine.
Treatment Topic Discussions & Demonstrations
Cold fiber laser for acne scarring and photoaging
Ultrasound for submental and neck lifting
Fractional laser for facial photoaging
Picosecond laser for tattoos, freckles and more
RF microneedling for face and neck rejuvenation
1726 nm wavelength acne laser for sebaceous gland suppression
Injectable agent treatments with dermal fillers, neuromodulators and biostimulators for face, neck and body
This course is supported by the following companies who will be on-site at the event to answer attendees' questions: Acclaro Medical, Candela Corporation, Cutera, Inc., Lutronic, Powered by MRP, Sofwave Medical and Solta Medical.