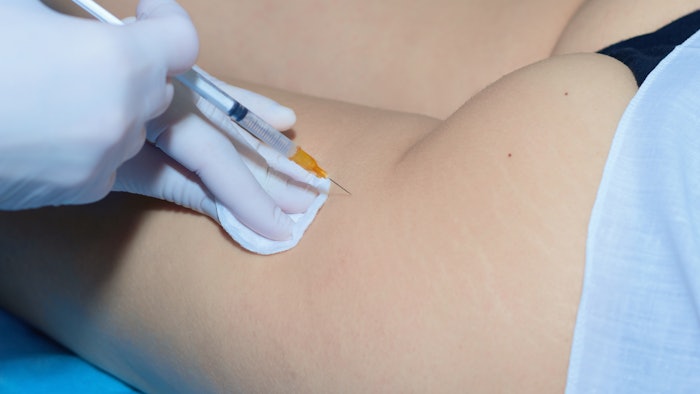 The use of limited dilute lidocaine anesthesia during minimally invasive cellulite treatment allows for a comfortable treatment, fast recovery and no leaking of excess fluid during the procedure. For their study, published in the Journal of Cosmetic Dermatology (February 3, 2022).
Related: Vibration Analgesia Offers Optimal Pain Relief During Injectable Treatments
Prior to treatment with the Aveli device (Revelle Aesthetics), which is used beneath the skin to release the fibrous septa of cellulite, Jeremy B. Green, MD, and Craig Layt, MBBS, FRACS, used a small (27- to 30-gauge) needle to deliver anesthesia to the entry sites. They then tunneled a 20-gauge spinal needle under the skin in the superficial plane to manually deliver the anesthetic along the pathway of the device following their marked cellulite targets.
Related: Cellfina Effective up to Five Years
The mean delivered anesthesia volume was 357.2 ml (range, 250–525 ml) or 18.7 mg/kg (range, 11.1–28.4 mg/kg). The mean number of cellulite depressions treated was 19.8 (range, 11–34). No sedation was used.
There were no signs of toxicity in any study patients, and all patients reported the procedure was tolerable.
Related: Smoothing the Dimples
Based on these outcomes, the authors posit infiltration of dilute lidocaine could have other practical applications in dermatologic procedures, in addition to its use in minimally invasive cellulite treatment.