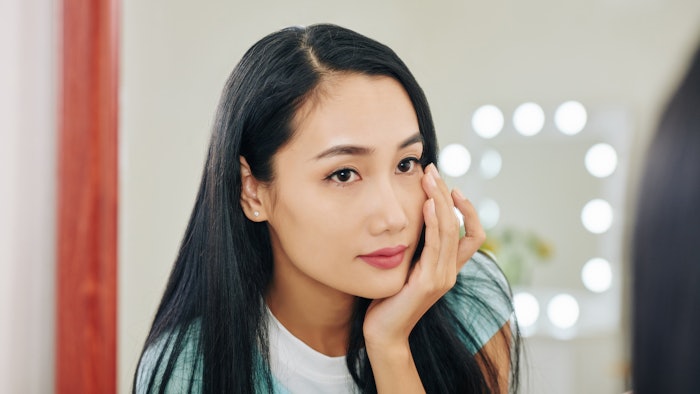 Topical skin lightener phenylethyl resorcinol (PR) reduces the appearance of undereye circles, and its efficacy is further enhanced when preceded by treatment with nano-microneedles.
For their split-face study, published in the Journal of Cosmetic Dermatology (March 2021), authors Yu Cheng-Qian, MD, et al, enrolled 20 female subjects with infraorbital dark circles. The participants were randomized to two groups: Group E (experimental group) received topical PR gel under the left orbit once a day and topical PR following treatment with nano‐microneedles under the right orbit twice a week; Group C (control) applied a gel without PR once day under both eyes.
Related: Undereye Concerns
The investigators measured melanin index (MI) and erythema index (EI) at baseline and at four and eight weeks during the treatment sessions, and again at one and two months after the last session (T12, T16). The global assessment was performed by a blinded dermatologist.
At the eight-week mark, the mean value of MI in group E was significantly lower than at baseline, and the infraorbital dark circles on the right side decreased more significantly than on the left side. The control group showed no change in MI before and after treatment. The authors noted no significant difference in EI between the groups or between the two treated sides of the face.
Treatment with PR and PR plus nano-microneedling was well tolerated, and no serious adverse effects were reported.