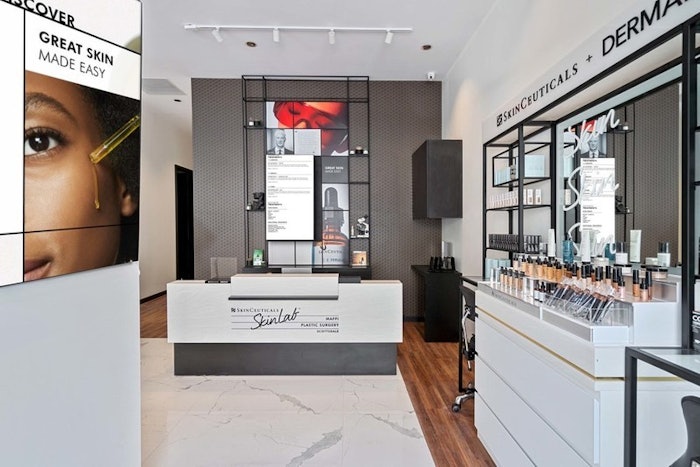 Courtesy of SkinCeuticals SkinLab
SkinCeuticals has opened the new SkinCeuticals SkinLab, by Maffi Plastic Surgery, in Scottsdale, Arizona. 
This new location, launched in partnership with board-certified plastic surgeon, Terry Maffi, MD, FACS, is the sixth SkinCeuticals SkinLab in the U.S., joining five existing locations in St. Helena, CA, Stamford, CT, Houston, TX, Palm Desert, CA, and Grand Rapids, MI.
"Partnering with SkinCeuticals to open a SkinCeuticals SkinLab location was a logical choice for our practice to reach new patients where they live, work, and shop. Our SkinLab location, in Scottsdale Quarter, is a state-of-the-art skin care destination dedicated to providing the best skin care knowledge, cosmetic treatments and retail experience to visitors and patients alike," said Dr. Maffi.
Visitors can choose from a simplified treatment menu, including a skin care consultation using the SkinCeuticals SkinScope LED diagnostic tool. Visitors can also receive a Dermablend Professional makeup touchup following treatments.
In partnership with certified physicians, SkinCeuticals curated three signature treatments for its SkinLabs, which include:
SKINSMOOTH: LED Micropeel + Phyto treatment using red light therapy paired with a chemical peel for a skin refresh, ideal for party prep or a rough skin day.
SKINBRIGHT: HydraFacial + Micropeel treatment for routine maintenance or seasonal skin concerns.
SKINFIRM: Microneedling + HB5 treatment to address more intensive concerns, including dullness and skin laxity.