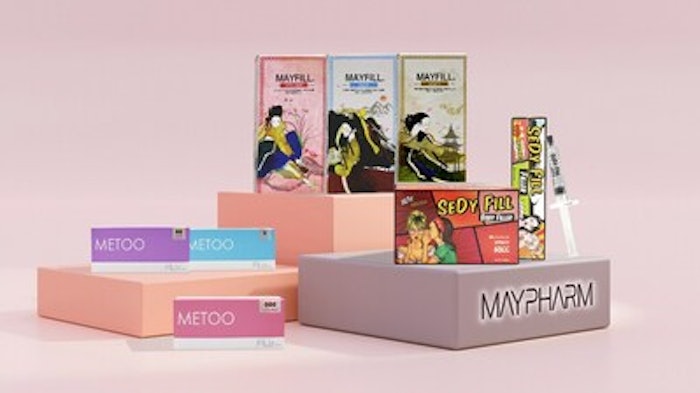 Photo courtesy of Maypharm
Maypharm launched Metoo Fill, the first CE approved filler. The product innovation has experienced rigorous clinical preliminaries to guarantee the fillers' performance. Maypharm's other new filler MayFill contains Multi-Layered Phasic Hyaluronic Acid based with new R2 Technology (Rotation and Revolution), and lidocaine for comfortable application, unlike Metoo Fill (CE). 
MayFill HA filler is easy to modify because it reacts quickly to enzymes and normalizes unsatisfactory results. The result is smoother, firmer and more youthful looking skin. When compared to other treatments or devices, there is a relatively low risk with minimal downtime and quicker recovery.
Related: Reducing Risks of HA Filler-induced Vascular Complications
In Multi-layered Phasic hyaluronic acid fillers two layers exist together in the body creating even more natural results over time. This type of filler reduces the situation in which cross-linked particles with relatively high recovery power come into direct contact with the treatment area and become unnatural.
Mayfill has also been reported to lower the incidence of edema. If there is insufficient hydration, edema makes it difficult to predict the procedure, resulting in low patient satisfaction. Mayfill provides sufficient hydration and can be used to contour and sculpt areas of the face, such as the cheekbones, lips, or chin, to create a more symmetrical and balanced look.
There are three types of MayFill: Volume, Deep and Light. They are also customizable, so providers can choose the amount of product injected and the type of product to use depending on your desired results.