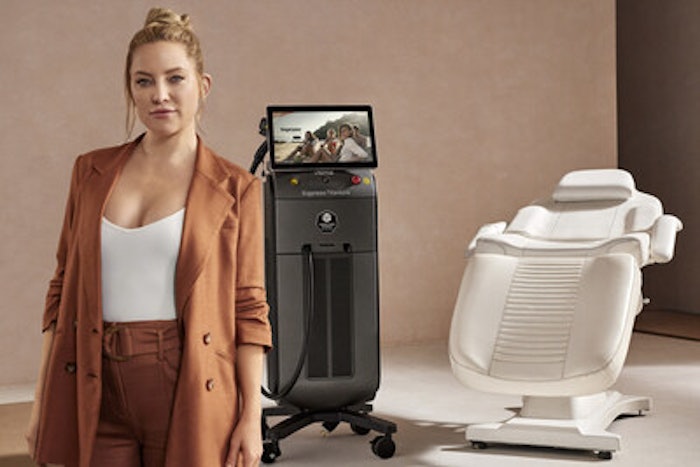 Photo Courtesy of Alma Lasers
Alma Lasers has announced that award-winning actress Kate Hudson is their new Global Brand Ambassador. In collaboration under the theme "Beyond The Trend," Hudson and Alma aim to showcase the empowerment of embracing natural beauty, while Alma commits to delivering safe, effective and evidence-based solutions.
Related: Face Reality Announces 15 Winners of 2023 Ambassador Program
The campaign highlights Alma's award-winning products, including Alma Harmony, Soprano, Opus and PrimeX. In addition, the campaign features Alma's groundbreaking home-use brand, LMNT, which brings professional-grade technology into the comfort of consumers' homes.
Directed by the award-winning American film director Anthony Mandler,  the brand-new campaign guides the public on the significance of reliable aesthetic solutions over passing trends by featuring Hudson illustrating not just the most bizarre aesthetic trends, but actual trends that people naturally encounter on their socials every day, such as using snails for skin rejuvenation or egg-based hair removal. The campaign will be showcased on social media and digital platforms throughout September.
"We are thrilled to welcome Hollywood star Kate Hudson as our new Global Brand Ambassador," said Lior Dayan, Alma CEO. "Her remarkable talent and unwavering dedication to aesthetics, beauty, and wellness perfectly align with Alma's mission. Kate has captivated millions worldwide, not only through her acclaimed performances as an actress but also as an inspiring figure known for her authentic and natural beauty approach. We are truly excited to have her on-board in spreading Alma's message worldwide."
"Partnering with Alma feels incredibly natural because we share the same passion," said Hudson. "I've personally experienced Alma's Harmony and Accent Prime treatments, and what I really like about it is that I could visually see the results on my skin. Alma's dedication to promoting aesthetic solutions that enhance natural beauty truly resonates with me. I believe in empowering individuals to embrace their uniqueness and feel confident in their own bodies, and Alma makes it happen."