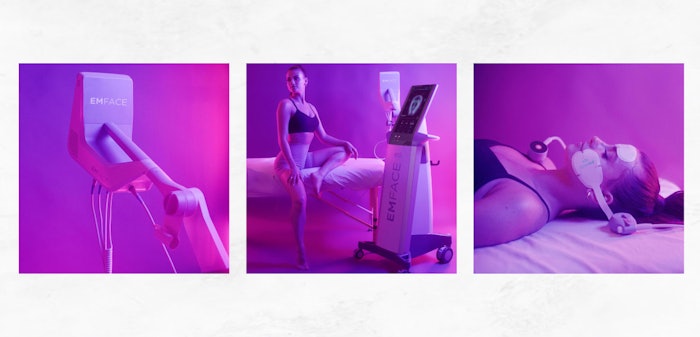 Photo courtesy of EMFACE
Ellen Turner, M.D., First to Offer EMFACE in Dallas
The Dallas-based Dermatology Office of Ellen Turner, M.D., will be the first practice in Dallas to offer BTL Aesthetics' EMFACE treatments as of Sept. 19, 2022. 
Dr. Turner, a BTL EMFACE "Luminary," will be providing facial rejuvenation treatments with EMFACE, welcoming women and men who want to improve their facial contours without surgery.
Related: ExoCel Bio Uses Nanoparticle Technology to Produce Powerfully Potent Exosomes
As a luminary, Dr. Turner will be speaking to practices and physicians around the country about EMFACE throughout the rest of 2022 and beyond. Her first engagement will be at the World Congress of the American Academy of Aesthetic Medicine in November, 2022. 
Clinical trials have show that patients can expect an average 30% improvement in muscle tone, 23% improvement in lift and 37% reduction in wrinkles. The treatment lifts sagging brows, reduces forehead lines, sculpts and defines the jawline and tightens lax neck tissues. 
EMFACE addresses contour changes by combining high intensity focused electromagnetic technology (HIFES) with radiofrequency (RF) energy to build muscle and reduce fat at the same time. The device can trigger thousands of powerful muscle contractions that strengthen and tone facial muscles. The radiofrequency energy also encourages renewed collagen production.