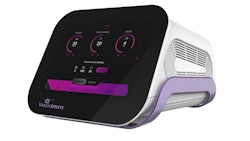 Epileve is a portable laser hair removal machine that provides physicians with a cost-effective and tabletop solution to hair removal treatments. This diode laser has high efficacy and safety that delivers a positive ROI. The treatment itself is a fast, comfortable and safe for all skin types, including tanned skin.
Physicians can work with a footswitch or an ergonomic applicator, and they can set up pre-set parameters and an auditory guidance system. This system standardizes the delivery of treatment by signaling you when to move, for more consistent and predictable results.
The device includes two modes of operation: PULSE and SLIDE. PULSE mode delivers higher energy at a lower reptition rate for fewer treatmetn sessions. SLIDE mode delivers high repetition rate of short pulses for full treatment coverage with virtually no patient discomfort.