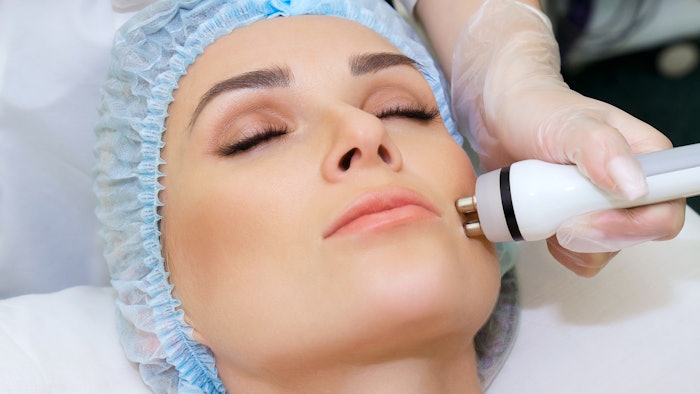 Researchers Virginia Benitez-Roig, MD, and Mario A. Trelles, MD, PhD, set out to evaluate the efficacy and safety of a procedure that uses bipolar radiofrequency (RF) microneedles for rejuvenation of the lower face and neck by performing a prospective clinical and histological study. Their findings were published in Lasers in Surgery and Medicine (January 2022). 
Related: Fractional RF Microneedling With and Without PRP for Neck Rejuvenation
A total of 24 women over 40 years in age were treated with bipolar RF equipment (Profound; Candela Medical) during a single session. Biopsy samples were taken from 12 patients, and microscopy images related to the immediate effects of RF and the changes observed four months after treatment were examined. Blind independent evaluators assessed treatment results by comparing before and after photographs. Both subjects and evaluators completed satisfaction questionnaires. 
Related: A Review of RF Microneedling vs. Energy-based Devices
Immediate lysis of adipocytes in submental fat was observed, as well as an increase in density and compaction of elastin and collagen fibers four months post treatment. On average, there was a 30% reduction in fine lines, wrinkles, furrows and folds, and 20% improvement of the neck silhouette. Photographic signs of aging improved significantly in the face and the neck. 
The mean patient satisfaction score was 8.3/10 and mean therapist satisfaction score was 9.3/10. The adverse effects noted were mild and temporary and no complications were observed. 
Related: No Added Risk with Combination RF Microneedling and Injectables