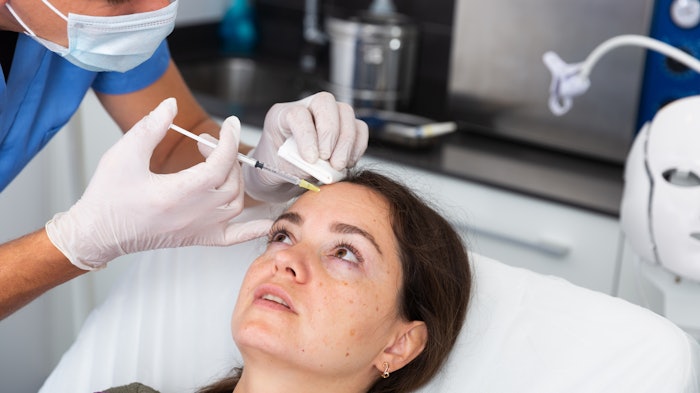 Researchers Diane MacGillis, MD, and Yuri Vinshtok, MD, investigated the clinical efficacy of non-crosslinked hyaluronic acid (NCL-HA) and crosslinked hyaluronic acid (CL-HA) for aesthetic skin concerns when delivered intradermally by pneumatic-assisted high-velocity jet injections. Their findings were published in the Journal of Cosmetic Dermatology (April 2021). 
MacGillis and Vinshtok retrospectively analyzed the charts of 115 patients treated with jet injected NCL-HA and CL-HA for skin rejuvenation, age-related laxity and rhytidosis, or hypertropic and acne scars and striae.
Related: Laser Assisted HA Delivery Enhances Facial Skin Remodeling
They used the Global Aesthetic Improvement Scale (GAIS) and the 5-grade patient satisfaction scale at the three-month follow-up to assess the efficacy of the treatments. Longevity of the treatment effect was measured by the time it took patients to voluntary return for repeat treatment.
Patients underwent an average of 2.8 treatments with a low incidence of side effects, which included bruises (7%) and temporary local edema (1%). Patients were highly satisified with the treatment results in all categories with the average satisfaction scores of 3.68 (NCL-HA) and 3.76 (CL-HA). An average GAIS score of 1.7 ("much improved") was calculated for neck, decollete and perioral areas. The overall GAIS score averaged 1.78 (NCL-HA) and 1.6 (CL-HA). Longevity of the treatment averaged 13.1 months for NCL-HA and 13.2 months for CL-HA groups. 
Related: Best Practices When Using Hyaluronic Acid Fillers for Tear Trough Deformities
The authors concluded that the retrospective data showed similar significant improvement of all aesthetic skin concerns in the 115 subjects treated with either NCL-HA or CL-HA delivered intradermally by a high-velocity jet-injector device with minimal downtime, pain or side effects.