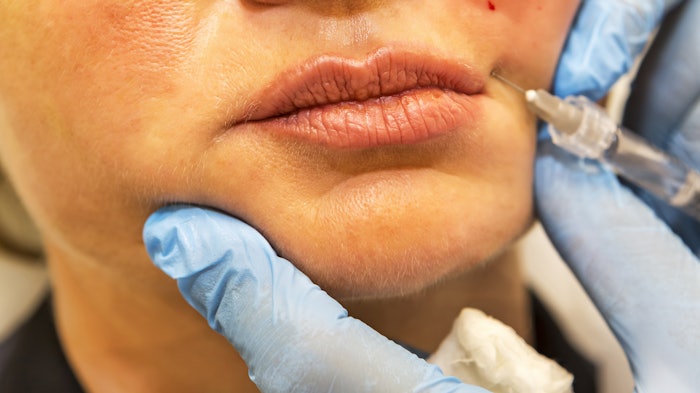 A study from the Skin and Stem Cell Research Center, Tehran University of Medical Sciences, Tehran, Iran (Journal of Cosmetic Dermatology, April 27, 2021) revealed that injections of autologous fibroblasts can effectively revolumize nasolabial folds and rejuvenate skin.
Related: Gender Age and Variation of the Angular Artery Within the Nasolabial Sulcus
The study included 22 subjects (35 to 60 years old). The investigators collected skin samples from the retro-auricular region of the subjects; the fibroblast cells were isolated and cultured.
Each subject received three injections with autologous fibroblasts at two-week intervals. They were followed up for six months. Structural changes in their wrinkles were assessed by sonography and VisioFace software, cutometer, tewameter and colorimeter.
Related: Ultrasound Improves Safety of Lipofilling Treatments
VisioFace software showed significant phenotypic changes after the nasolabial injections compared to pre-treatment (81.42 ± 23.97 vs. 60.91 ± 21.91). There was a significant increase in the total skin density (13.73 ± 6.30 vs. 26.27 ± 7.93), dermis density (11.28 ± 5.21 vs. 31.88 ± 7.96), epidermis density (27.68 ± 23.15 vs. 49.21 ± 45.68) and dermis thickness (798.09 ± 133.51 μm vs. 905.59 ± 240.67 μm, p = 0.036) pre- and post-treatment.