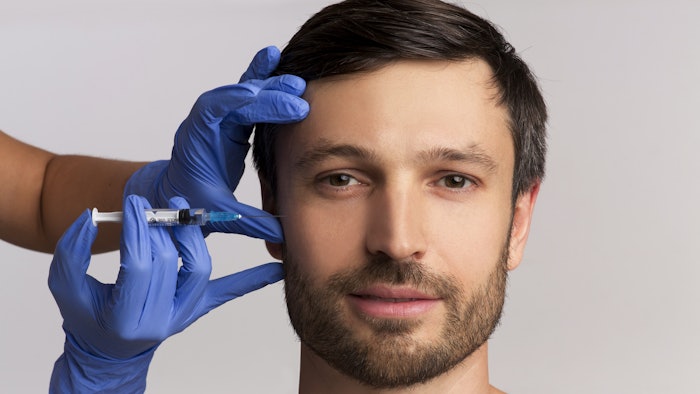 A lateral injection technique using a high G' filler to correct tear trough deformities offers satisfying results with fewer complications and less product compared to the standard three-point low G' injection technique, according to the results of a study published in the Journal of Cosmetic Dermatology (August 27, 2021).
Related: Hyaluronic Acid Filler Injections for Undereye Dark Circles
Sapna Vadera MDS, et al, performed a prospective, double-blind, study that included 30 subjects (35–60 years old). The participants were divided into two groups of 15. Subjects in group A underwent treatment using a conventional tear trough filling technique with a low G Prime filler (Mauricio de Maio's 3-point tear trough reshape technique). Subjects in underwent treatment using a lateral injection technique with a high G' filler.
Related: HA Fillers for Tear Trough Deformities: Best Practices
Both groups showed marked improvement in appearance and skin quality. In group B (lateral injections), a mean of 0.5 ml of filler was used to lift the cheek and reduce the tear trough; group A required a mean of 1.2 ml of filler for the same aesthetic outcome.
Postprocedure complications including bruising and Tyndall effect were much higher (statistically significant) using the standard medial technique for the correction tear trough.
Related: SVF Gel Offers Long-Term Improvement for Infraorbital Hollows
The authors concluded that, "Aesthetically satisfying results for the tear trough correction are possible, without actually injecting the tear trough directly, based on the knowledge of the underlying anatomy."