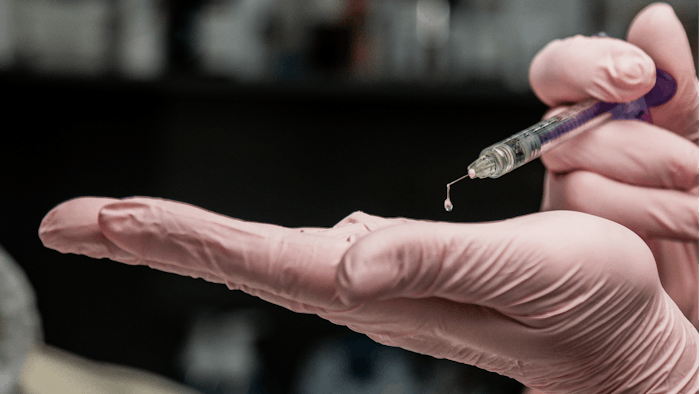 A treatment protocol using an increased reconstitution and injection volume of abobotulinumtoxinA (aboBoNT-A, Dysport) is effective and did not show an increased risk of eyelid ptosis.
According to the current U.S. license for aboBoNT-A, a 300-unit vial of the powder formulation is reconstituted with either 1.5 mL or 2.5 mL 0.9% NaCl, and the injection protocol for glabellar lines (GL) is five 10-unit aliquots administered to the GL area using corresponding injection volumes of 0.05 mL or 0.08 mL per site.
Related: The Latest in Botulinum Toxin Dosage and Indications
In their study, published in Drugs in Dermatology (September 2021), Joel Schlessinger MD, et al, posited that increasing the reconstitution volume to obtain a 0.1 mL volume of injection "minimizes the margin of error and is comparable to other botulinum toxin A preparations (onabotulinumtoxinA, [Botox] and incobotulinumtoxinA [Xeomin])." This increased volume is approved for use with aboBoNT-A in some countries outside of the U.S., including in the European Union.
Related: Dysport Dose Escalation Study Outcomes
To determine the safety and efficacy of the increased reconstitution and injection volume, the study's authors performed a six-month, phase III, randomized, double-blind study, wherein subjects (18-64 years old) were administered either aboBoNT-A 50 U as five 0.1 mL injections (10 U) in the glabellar region following reconstitution of a 300-U vial in 3 mL (n=224) or placebo (n=77).
Assessments included time to onset of effect, investigator- and subject-assessed GL severity, subject satisfaction, aesthetic improvement and safety. The primary endpoint was composite 2-grade response at one month.
Related: [Botulinum Toxins] Tips To Reduce Risks of Eyelid Ptosis
The median time to onset was two days with 34% of subjects reporting effect on day one. At one month, the composite 2-grade responder rate was 65.8% for aboBoNT-A versus 0% for placebo; 91-92% of subjects in the treatment group had none-or-mild GL severity and 95–100% had a ≥1-grade GL severity improvement. At six months, 46-65% of aboBoNT-A-treated subjects had a sustained ≥1-grade improvement.
From month one to month six, ≥91% of subjects in the aboBoNT-A group were satisfied with the aesthetic outcome of their treatment. At six months, 99% of subjects treated with aboBoNT-A responded that they would recommend this treatment to family and 96% that they would like to receive the same treatment again.
Related: Intradermal BTX Forehead Injections as Effective as Intramuscular
Treatment-related adverse events (TEAEs) occurred in 10.8% of subjects in the aboBoNT-A group and 7.8% in the placebo group, all were of mild or moderate intensity. The most common TEAEs during the study (occurring in >1 subject) were headache, eyelid ptosis and injection-site pain.
Three subjects (1.3%) developed eyelid ptosis after injection of aboBoNT-A. The authors noted that the safety results for this injection volume were consistent with and, in fact, lower than in the prescribing information for aboBoNT-A and other toxin products used in GL treatment, indicating no increase in local spread of toxin with the larger injection volume. In addition, there was a low rate of injection site pain (0.4% in the aboBoNT-A group).