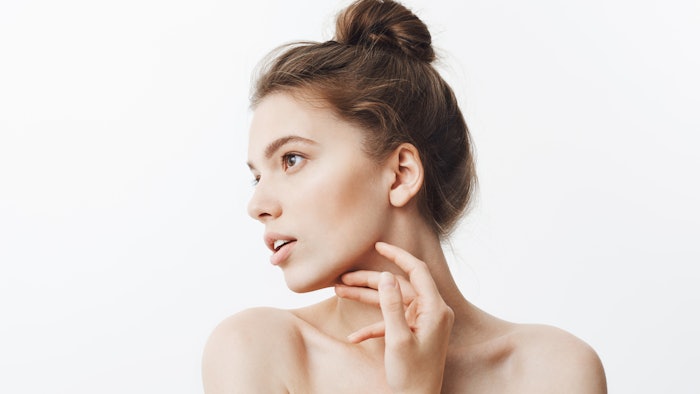 Researchers conducted a prospective, single-center study to investigate the aesthetic outcome of minimally invasive soft tissue filler treatments for the jawline. Their results, published in the Journal of Cosmetic Dermatology (September 2021), showed that jawline enhancement using minimally invasive soft tissue filler injections produced durable, safe results. 
Related: Contouring the Lower Third
A total of 30 patients (1 male and 29 female) underwent jawline augmentation using a highly cross-linked hyaluronic acid-based soft tissue filler. Three-dimensional surface imaging was performed after two weeks, as well as three, six, nine and 12 months postprocedure. The aesthetic results and occurence of complications were investigated at these times as well. 
Related: Combination CaHA and HA Fillers for Midface and Jawline Enhancement
The surface-volume coefficient (SVC) had an average of 1.10 ± 0.2 after 14 days, 0.95  ± 0.1 after three months, 0.83  ± 0.1 after six months, 0.74  ± 0.1 after nine months and 0.63  ± 0.1 after 12 months. There was a significant correlation between time of measurement and measured SVC with rp = −0.761, p < 0.001. Multivariate analysis revealed a significant difference between the measured SVC and the different time points of measurement with p < 0.001. The data showed strong aesthetic improvement according to the 5-point GAIS after three, six and nine months.
Related: FDA Approves Restylane DEFYNE for Chin Augmentation
The authors concluded that minimally invasive soft tissue filler injections for jawline enhancement proved to produce durable, safe results that were generally rated 'very satisfying' by patients and investigators over the period of 12 months.