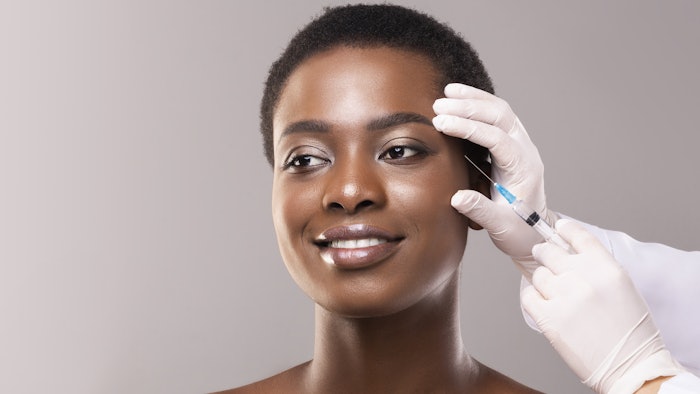 While many complications after nonpermanent filler injections have been reported, there is still debate on the overall complication rate. Researchers Carlo M. Oranges, MD, PhD, et al, performed a systematic review of literature to assess the type and severity of associated complications following injections in different anatomical regions of the face. Their findings were published in the Journal of Plastic and Reconstructive Surgery (October 2021). 
Related: [Botulinum Toxins] Effect of Needle Size on Skin Penetration Force
Researchers screened the entire PubMed/Medline database to identify case reports and clinical studies describing complications that have occured after injection of nonpermanent fillers in the face. The complications were reviewed and analyzed according to their occurence in different anatomical regions of the face. There were 46 articles that included a total of 164 patients who reported a total of 436 complications during the time period between January 2003 and February 2020.
The majority of the complications were reported after injections to the nose and nasolabial fold (n = 230), the forehead and the eyebrows (n = 53) and the glabellear region (n = 36). Of the 436 total reported complications, 163 were classified as severe or permanent including skin necrosis (n = 46), loss of vision (n = 35) or encephalitis (n = 1). There were also 273 complications classifed as mild or transient including local edema (n = 74), skin erythema (n = 69) and filler migration (n = 2). The most severe complications were observed in the nose, glabella and forehead. 
Related: [Filler Safety] Rethinking Glabella Injection Points
Researchers concluded that nonpermanent facial fillers were associated with rare but potentially severe complications, particularly affecting the eye and palpebral region. The severity and impact of the complications depended on the anatomical region of the face, and the risk is correlated to the complex vascular anatomy of the face interconnecting the extracranial and intracranial vascular network of the carotid artery. Therefore, it is mandatory that injectors have adequate knowledge of the anatomy of the face and adhere to appropriate technical recommendations, including the use of correct needles or cannulas and injection to the appropriate soft-tissue layer depending on the area being treated.