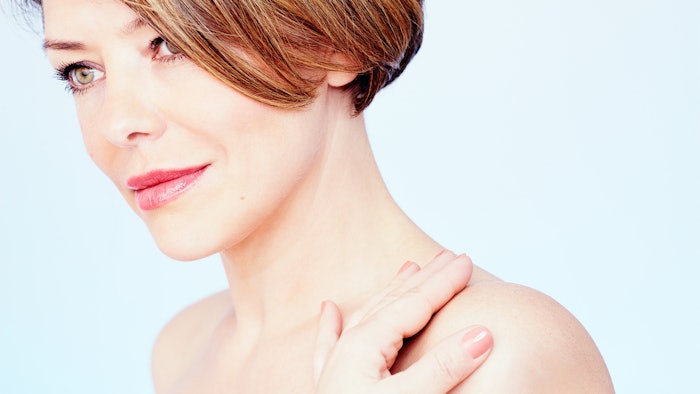 Annie Chiu, MD, presented "Treating the Face and Body with Hyperdilute Calcium Hydroxylapatite: Dilution Practices and Injection Techniques for Biostimulation and Skin Tightening in Clinical Practice," during the virtual meeting of the American Society for Dermatologic Surgery in November.
Related: Researchers Treat Skin Laxity with MFU-V and CaHA  
The study includes practical guidance gathered from 12 expert physician injectors who participated in live webinars during three regional meetings. The guidance is based upon the most frequently requested information by audience members and covers workflow for dilution and hyperdilution of calcium hydroxylapatite (CaHA), as well as instructions for injection of the face and body and tips for patient selection.
Related: Expert Panel Publishes Guidelines for Hyperdilute CaHA Injections
Dr. Chiu highlighted CaHA's ability in its classic reconstitution volume to provide both immediate volumization through its gel carrier and longer-term neocollagenesis, which occurs around the scaffold of the CaHA microspheres.
When diluted in a 1:1 ratio, CaHA can be used in the face and hands and provides a smoothing effect. In this dilution ratio and indication, placement is in the subdermal plane.
Related: Guidelines To Manage CaHA Filler-related Intravascular Complications
"When you use it as a skin tightener, it is important to tell your patients they are not going to see improvement immediately. Neocollagenesis really takes about four to six weeks to occur," said Dr. Chiu. "I tell my patients it's about two to three sessions spaced six to eight weeks apart, and the results usually last one to two years."
Hyperdilute versions of CaHA use 1:2, 1:3, 1:4 or greater ratios of dilution of CaHA:dilutant. Hyperdilute CaHa should be injected in the subcutaneous or dermal-subcutaneous junction, and the dilution will take away any lifting properties of the filler.
Related: Combination CaHA and HA Fillers for Midface and Jawline Enhancement
When determining the correct dilution, "The general rule of thumb is, the thinner the skin, the more dilute you want it to be," said Dr. Chiu. "So, on the face, for tightening, I use a 1:1 or 1:2 ratio; on the neck a 1:2 or 1:3; on the body 1:3 to 1:4; on thinner-skinned areas like the decollete, a 1:4 ratio."
To prepare the filler, the panel recommends using two 10 cc syringes with a female-to-female adapter with CaHA in one syringe and dilutant in the other (typically a small amount of lidocaine plus normal saline).
Make at least 20 passes via luer-lock to ensure a homogenous product, and do not mix the products until you are ready to inject as the higher the dilution, the faster the combined product separates.
"I return the suspension to the CaHA syringe after mixing, because it provides better control," said Dr. Chiu. "You can use a needle or cannula for injection; I prefer a 22G cannula."