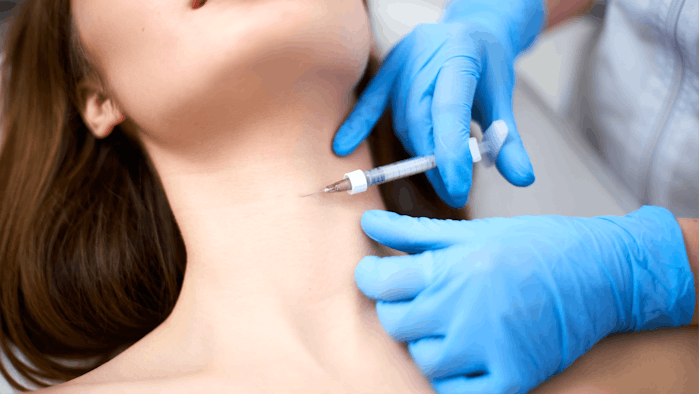 Although energy-based devices and botulinum toxins can provide significant improvement in neck skin texture and laxity, horizontal neck lines remain a difficult-to-treat aesthetic concern. An effective option, highlighted in the April 2022 issue of the Aesthetic Surgery Journal (April 2022), is combination treatment with hyaluronic acid filler and hyaluronic acid mesotherapy.
Related: RF Microneedling vs. Fractional Erbium Laser for Neck Rejuvenation
Yiming Li, MD, et al, performed a multicenter, randomized, evaluator-blinded, prospective study comparing compound HA filling plus mesotherapy versus botulinum toxin A for the treatment of horizontal neck lines.
A total of 48 female patients with moderate-to-severe horizontal neck lines completed all treatments and follow-up visits. Twenty-five patients received HA filling plus mesotherapy and 23 received BTX-A injection.
The HA compound filling plus mesotherapy treatment included delivery of one 1.5-mL HA (molecular weight, 1200 kDa) compound syringe for filling and one 2.5-mL HA (molecular weight, 600 kDa) compound syringe for mesotherapy. The HA compound filler was injected horizontally by the linear threading technique. The plane of injection was the deep dermis with injections spaced about 0.3 to 0.4 cm apart.
Related: Pneumatic Injections of HA Safe and Effective for Neck and Decollete
Immediately following the filler treatment, the injectors performed HA mesotherapy using the Derma Shine device (Interlims, Beijing, China). (Video of both techniques is available in the open access paper at the Aesthetic Surgery Journal.)
For the BTX-A group, a 100-U vial of onabotulinum toxin A (Botox, Allergan) was diluted with 5 mL normal saline to prepare a 2 U/0.1 mL solution. Injections were performed intradermally at points 1 to 1.5 cm apart in a zigzag pattern along the horizontal lines, placing 1 to 2 U BTX-A into each injection point for a total maximum dose of 10 to 20 U per horizontal neck line.
Compared with BTX-A, the HA compound filling plus mesotherapy group had significantly improvement in horizontal neck lines grades on all follow-up visits. Global Aesthetic Improvement Scale and patient satisfaction ratings were significantly higher for the HA filling plus mesotherapy treatment group. The combination HA treatment group did experience significantly higher rates of pain as well as a higher incidence and longer recovery of AEs, which included erythema, edema and ecchymosis.