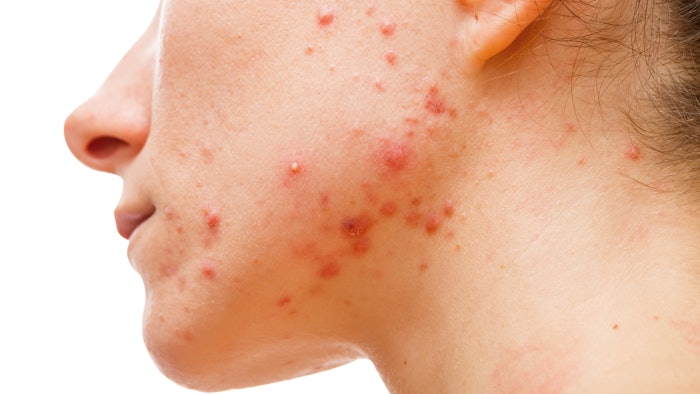 Data from two pivotal phase 3 clinical trials of Sun Pharmaceutical's WINLEVI (clascoterone) cream 1% for the topical treatment of acne vulgaris showed favorable safety and efficacy data in patients 12 years of age and older. The data was reported in a poster podium presentation at the American Academy of Dermatology (AAD) 2022 Annual Meeting in Boston, Massachusetts in March.
Related: FDA Approves Winlevi Anti-Androgen Therapy for Acne 
A first-in-class topical androgen receptor inhibitor, WINLEVI was approved by the U.S. Food and Drug Administration (FDA) in August 2020 for the topical treatment of acne vulgaris in patients 12 years of age and older. Although its exact mechanism of action is unknown, laboratory studies suggest that WINLEVI works by inhibiting the effects of androgen receptors in cells of the sebaceous glands to help reduce sebum production and inflammation. It is suitable for use in both males and females.
"Before WINLEVI became available, there was no topical medication available that was able to reduce sebum production, which is a major cause of acne," said Hilary Baldwin, MD, medical director of the Acne Treatment and Research Center in Brooklyn, New York, and past president of the American Acne and Rosacea Society (AARS). "It is therefore encouraging to see favorable efficacy and safety data results from the latest analysis of the WINLEVI Phase 3 clinical trials. This data should also provide dermatologists with confidence that they can use WINLEVI to treat both females and males with acne."
Related: Phase 3 Data on Anti-Androgen Acne Topical 
The two multicenter, randomized, double-blind pivotal Phase 3 trials enrolled more than 1,440 subjects with moderate-to-severe acne vulgaris who received either WINLEVI or placebo for 12 weeks. The primary efficacy endpoints were 1) the proportion of patients achieving "success," defined as an Investigator Global Assessment (IGA) score of 0 ("clear") or 1 ("almost clear"), with at least a 2-point reduction in IGA score from baseline; and 2) absolute change from baseline in non-inflammatory lesion counts (NILC) and inflammatory lesion counts (ILC) at Week 12. Safety was assessed from local skin reactions (LSRs) and treatment-emergent adverse events (TEAEs) through Week 12 (measured at baseline and at Weeks 4, 8 and 12).
In the two studies, 18.8% and 20.9% of WINLEVI-treated patients achieved success based on IGA at Week 12, compared with 8.7% and 6.6% of patients receiving placebo. The mean absolute change from baseline in NILCs at Week 12 was -20.4 and -19.5 for patients treated with WINLEVI, versus -13.0 and -10.8 for placebo-treated patients. The mean absolute change from baseline in ILCs at Week 12 was -19.3 and -20.1 in the WINLEVI groups, compared to -15.4 and -12.6 in the placebo groups.
Related: Sun Pharma To Distribute Winlevi 
The safety profile of WINLEVI was similar to that of placebo in the two studies. TEAEs occurred in 38 (11.1%) and 41 (11.2%) of WINLEVI-treated patients and in 41 (11.7%) and 50 (13.8%) of those who received placebo. No severe or serious TEAEs occurred in any patient treated with WINLEVI. The most frequently reported TEAEs were nasophyaryngitis (1.8% and 3.7% for WINLEVI, 1.1% and 1.9% for placebo), headache (0.6% and 0.3% for WINLEVI, 1.1% and 0.8% for placebo) and oropharyngeal pain (0.6% and 0.3% for WINLEVI, 1.1% and 1.1% in both placebo arms). In both studies, the frequencies of each LSR were similar between treatment groups, and the majority of patients did not experience each reaction. The most frequent LSRs were erythema (redness) and scaling/dryness, with the majority of reactions characterized as minimal or mild.