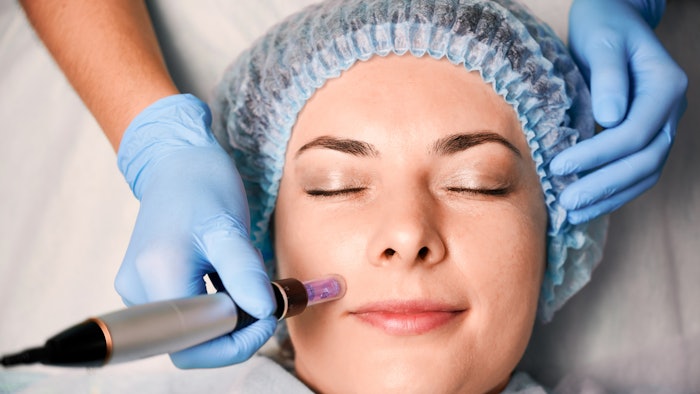 A study held by Colorescience explored the efficacy and tolerability of post-treatment skin care protocols following radiofrequency microneedling for facial rejuvenation. The results were detailed in The Journal of Clinical and Aesthetic Dermatology and specifically addressed the company's Finishing Touch Protocol. The protocol was designed to enhance treatment satisfaction, restore patient confidence and increase re-booking post-procedure.
Related: Microneedling Significantly Reduces Acne Scarring
The study reviewed the use of the protocol after procedures like IPL (intense pulsed light therapy), chemical peels, fractional resurfacing, microneedling and injectable treatments. Colorescience initiated the study due to the rising popularity in radiofrequency microneedling services. 
Dr. Elizabeth Grieshaber, MD, Board-Certified Dermatologist at Terezakis & Grieshaber Dermatology in Metairie, LA, and lead investigator of the study shared,  "Based on our results and in-practice experience, the Finishing Touch post-treatment skin care protocol improves patient confidence, comfort, satisfaction, and increases the likelihood of a repeat radiofrequency microneedling procedure."
Results revealed that 97% of the participants witnessed improvements in redness and/or treatment site marks after applying the Finishing Touch protocol and 90% reported that they were "very" or "extremely likely" to book a radiofrequency microneedling service. Every patient in the study agreed that the protocol improved their understanding of these aesthetic procedures.
The study concluded that the protocol is suitable for improving post-procedure outcomes or for anyone considering radiofrequency microneedling services.