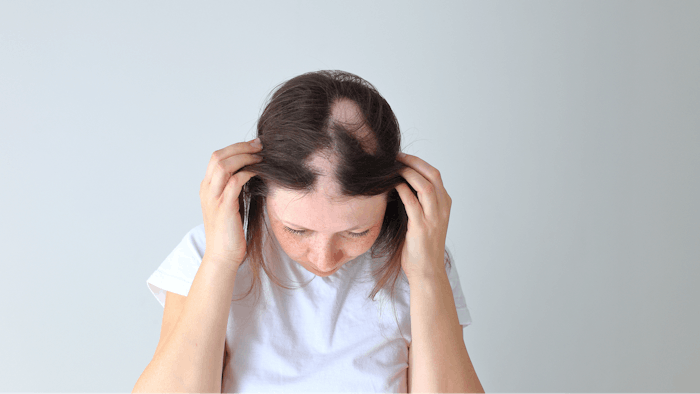 New phase 3 clinical data released by Concert Pharmaceuticals supports the use of deuruxolitnib to treat adults with moderate to severe alopecia areata. The Thrive-AA2 clinical trial found significant improvements in scalp hair regrowth after 24 weeks for patients taking either 8 mg or 12 mg twice daily.
Related: Oral Minoxidil is Gaining Popularity as an Alternative Hair Loss Treatment
Deuruxolitinib is an investigational oral selective inhibitor of Janus kinases JAK1 and JAK2. The FDA recently maintained Breakthrough Therapy designation for deuruxolitinib for the treatment of adult patients with moderate to severe alopecia areata and previously granted Fast Track designation for deuruxolitinib for the treatment of alopecia areata.
Thrive-AA2 was a randomized, double-blind, placebo-controlled clinical trial in 517 adult patients aged 18-65. Patients enrolled in Thrive-AA2 clinical trial were required to have at least 50% scalp hair loss due to alopecia areata, as measured by an absolute Severity of Alopecia Tool (SALT) score. The average baseline SALT score across all patients was approximately 87.9 (corresponding to approximately 12% average scalp hair coverage).
A statistically significant proportion of patients treated with either 8 mg twice daily or 12 mg twice daily deuruxolitnib experienced greater scalp regrowth compared to placebo. After 24 weeks, one-third of patients taking 8 mg twice daily and 38% of patients taking 12 mg twice daily achieved a SALT score of 20 or less.
Patients also responded to a Satisfaction of Hair Patient Reported Outcome (SPRO) scale after 24 weeks, with 47% of patients in the 8 mg twice-daily group and 52% of patients in the 12 mg twice-daily group reported being satisfied or very satisfied, as compared to 2% of patients in the placebo group. 
The safety profile seen with deuruxolitinib during the trial was consistent with previous studies. The most common side effects in any dose group were COVID-19 infection, nasopharyngitis, increased blood creatine kinase levels, acne and headache. No pulmonary embolisms or deep vein thromboses were observed in the trial. Two patients treated with the 8 mg twice-daily dose and two patients treated with the 12 mg twice-daily dose developed shingles. Five serious adverse events were reported in five patients, with one in the 8 mg twice-daily dose group that was assessed as possibly related to treatment.
"These data are highly encouraging and support the potential of deuruxolitnib to regrow hair on the scalp, eyebrows and eyelashes in patients with alopecia areata, and in many cases with a rapid onset of effect," said Brett King, M.D, Ph.D., clinical investigator of Thrive-AA2 trial.
"We are pleased by the consistency of the Phase 3 results generated in the Thrive-AA clinical program," said James V. Cassella, Ph.D., chief development officer of Concert. "Based on the strength of the Thrive-AA2 data along with data from the Thrive-AA1 trial and the continuation of our Breakthrough Therapy designation, deuruxolitinib has the potential to be a best-in-class treatment option for alopecia areata. We look forward to filing our deuruxolitinib New Drug Application with the FDA next quarter and bringing this potential new treatment option to patients living with alopecia areata as soon as possible."