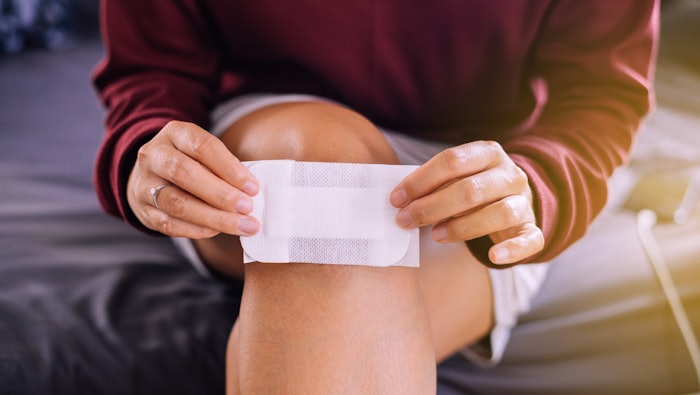 gballgiggs - stock.adobe.com
New head-to-head data published in the Aesthetic Surgery Journal (ASJ) Open Forum in collaboration with Johns Hopkins University's School of Medicine and the University of California San Diego found that the SYLKE wound closure prototype outperformed the current standard of care. SYLKE is designed to enhance healing across surgical wounds and reduce complications and infections that can lead to poor scarring outcomes. It is the first aesthetic dressing made of pure hypoallergenic silk fibroin.
The study indicated that SYLKE outperformed Dermabond Prineo across all analyzed measures, significantly reducing the incidence of medical adhesive-related skin injuries (MARSIs). Each year, 1.5 million Americans suffer from MARSIs caused by synthetic surgical adhesive dressings -- leading to painful complications, including surgical site infections (SSIs) and poor scarring outcomes. The current standard of care, including inflexible tapes, synthetic materials, and aggressive liquid glue medical adhesives often leads to skin tears, blisters, cell damage and allergic contact dermatitis, according to the study.
Related: Athena Suture Guards are a Breakthrough Treatment for Folliculitis Decalvans
The SYLKE prototype and Prineo were evaluated in abdominoplasty, body lift, breast reduction and breast lift procedures. The SYLKE prototype significantly outperformed Prineo in addressing skin discomfort (4% vs. 64%), ACD including rash, itching and erythema (0% vs. 52%), need for topical steroids or antibiotics for ACD and SSIs (0% vs. 52%) and dressing removal time (47 seconds vs. 1 minute and 39 seconds). 
The primary limitations identified in the study were the relatively small sample size of 25 patients and the use of only two products to be compared with one another, which prevented the additional testing of other common wound closures, such as adhesive paper tapes. The authors also pointed out that patients in the study were blinded as to which side was treated with Dermabond Prineo and which side received the silk dressing, however, both dressings had visual and textured differences and might have been discerned by patients.
Authors of the study propose that a future silk wound dressing could be designated in the United States as an FDA Class 1, 510 (k) exempt, device with the product code KGX (tape and bandage, adhesive). This classification would establish a clear and safe regulatory pathway, enabling the product to be utilized in a variety of surgical settings, according to the study.
It is suggested that future research should focus on the use of hypoallergenic silk in medical applications to aid in the understanding of the biological rationale and mechanisms by which silk fibroin promotes wound healing, as well as analyses of the rates of MARSI for other wound dressings, surgical adhesives and paper tapes.
SYLKE inventor M. Mark Mofid, M.D., FACS, an assistant professor of plastic surgery at The Johns Hopkins University School of Medicine, announced that a head-to-head comparison of SYLKE versus the 3M Steri-Strip Skin Closure device will be published in spring 2024 and multispecialty studies using SYLKE are in the planning stages at Johns Hopkins this fall.
"SYLKE aims to revolutionize surgical wound care by eliminating medical adhesive-related skin injuries that lead to complications such as infections and poor scarring outcomes," said Dr. Mofid. "We see a benefit to millions of patients and aim to decrease the financial burden on the healthcare system by bringing SYLKE™ to market. Scarring from surgical procedures dramatically affects aesthetics and impacts patients' mental health and overall well-being. We are especially pleased to extend the art of scar-minimizing wound closure to all healthcare professionals, patients, consumers and military personnel."