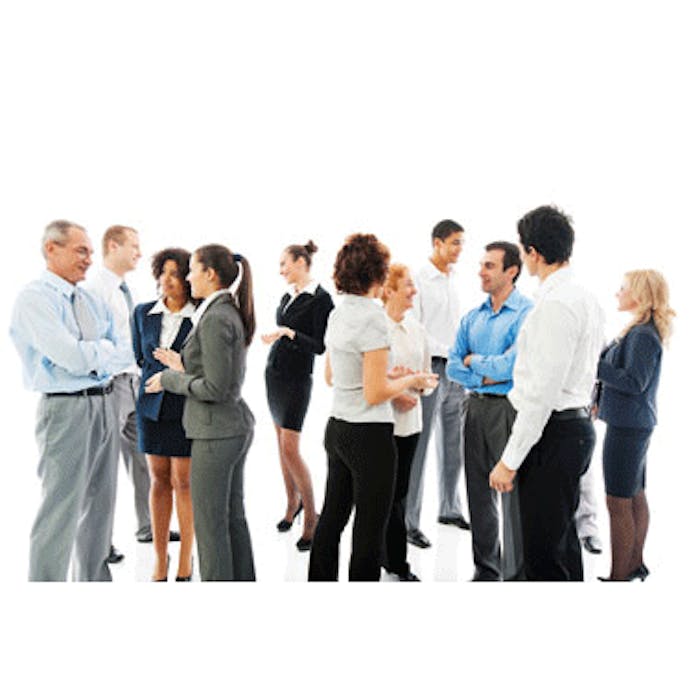 Networking is a low-budget, high-impact way to grow your practice. It is one of the most effective practice-building tools available, because it creates personal bonds that lead to trusted referrals. To be successful, networking efforts must be targeted toward building reciprocal relationships. It is all about how you can help others, as well as how others can help you.
Social networking, through sites like Facebook, LinkedIn and Google+, has become essential to aesthetic business growth and practice success. However, nothing can replace the impact of positive, face-to-face human interactions. Following are some strategies you can use to identify valuable networking opportunities and build rapport and trust with new contacts.
Connecting with Other Healthcare Professionals
Physician-to-patient referrals rank among the most effective referrals. Hence, the best places to start your networking efforts include professional societies and events where you will meet individuals who work in your field and share common interests and knowledge.
Focus first on nurturing your relationships with professionals who currently refer patients to you, then expand your network by meeting and attracting other healthcare professionals into your referral network. These may include general practitioners, OB-GYNs, podiatrists and other dermatologists and plastic surgeons in your area.
In addition to professional associations, hospital fund-raising events and corporate health fairs are effective avenues to meet other healthcare professionals.
Create what is known in the trade as an "elevator pitch"—a brief introduction to you and your practice. In less than 30 seconds, your pitch must make your listener want to learn more about you. Find ways to differentiate yourself from others in your field. Give specifics about what you do. If you are in a niche market with special skills and talents, mention that. Be memorable.
Because your elevator pitch is your door opener, practice it on staff, family members or friends and keep working on it until you feel comfortable.
When reaching out to physicians in your area, start with phone calls or professional-to-professional handwritten notes, and follow up by email. Build toward asking for a face-to-face meeting at a restaurant or coffee shop that is convenient for the other party.
Image copyright istockphoto.com
[PAGEBREAK]
Networking Beyond Healthcare
When you are ready to reach out beyond your professional contacts, there is a wide variety of networking opportunities for cosmetic practitioners. They include:
Complementary Businesses. The majority of your patients will come from a geographic area within five to 10 miles of your office. Reach out to the owners of complementary businesses within this zone. These may include health clubs, salons and spas, and weight loss clinics.
Charitable Organizations. Aligning yourself with a charitable organization that is near and dear to your heart or to those of your patients is an effective way to enhance your reputation within your community. Not only is it personally rewarding to take an active role as a volunteer, fund-raiser or event organizer, it allows you to introduce yourself and your practice to a new audience.
Once you identify an organization that you feel will be a good fit for your practice, make a point of becoming an active participant in fund-raising; volunteer for a leadership role; or offer to host an event. Plan to stay active for at least one year before evaluating the benefits of your involvement.
Alumni Events. If your alumni association has a local chapter, you have several ready-made connections available. Take advantage of these contacts by attending gatherings and planning social events with members in the community throughout the year.
Civic and Business Groups. Civic and business networking groups often offer online member listings with profiles. Review these lists to determine which organizations are a good fit before investing time and resources. These groups typically meet once a month—generally around a meal—while others hold mixers. They will often allow you to attend their meetings and events as a guest, at least at first.
Additional entities that may prove valuable in generating new patients include events or associations that cater to your target patient base, such as art galleries, chamber music groups or local theater programs.
In selecting potential networking opportunities, ask yourself a few questions about the group's ability to help you network successfully, such as:
Does this group put you in contact with strategic partners?
Does it attract members of your target patient base?
Does it offer training in new skills that will help you grow your practice?
Only focus on groups that fulfill the screening criteria you selected. Then, when you're ready to start networking, visit as many of those groups as possible, and look for other criteria, such as:
Do you feel comfortable with the group's tone and attitude?
Do you feel welcome—could you see yourself actually being productive in this group meeting?
Do the members seem supportive of one another?
Does the group have competent leadership?
[PAGEBREAK]
When evaluating formal networking groups, visit appropriate groups a few times before joining. Arrive at the meeting early and stay late. While there, participate by speaking with as many members as you can, and be an active listener. Educate them about your business and learn as much as you can about their professional backgrounds. Once you commit to the group, consider hosting a meeting at your practice.
Should a member provide a referral, follow through quickly and efficiently. Do so with the utmost respect and professionalism, and keep your referral source in the loop. Remember that your actions are a reflection on your referral source.
Nurturing Network Relationships
People are not truly part of your network until you have created a perceived relationship with them. Within 24 hours of meeting someone in person, follow up via phone, email, text or written letter. Keep a simple database of new contacts. Then continue to nurture the relationship by providing followup information on your practice and inviting that person to join you on social media sites or in person for lunch, a round of golf or at a social event that is of interest to both of you.
Initial meetings should not be just about work, nor should they be just about you. Focus on interpersonal subjects that will help to build this new relationship, and talk about things that you both find interesting. These face-to-face meetings are one of the keys to successful networking, which—with time and effort—will materially grow your business.
Cheryl Whitman is the CEO of Beautiful Forever, a national aesthetic business consulting firm that helps physicians develop new profit centers for practice growth. Contact her at cheryl@beautifulforever.com.