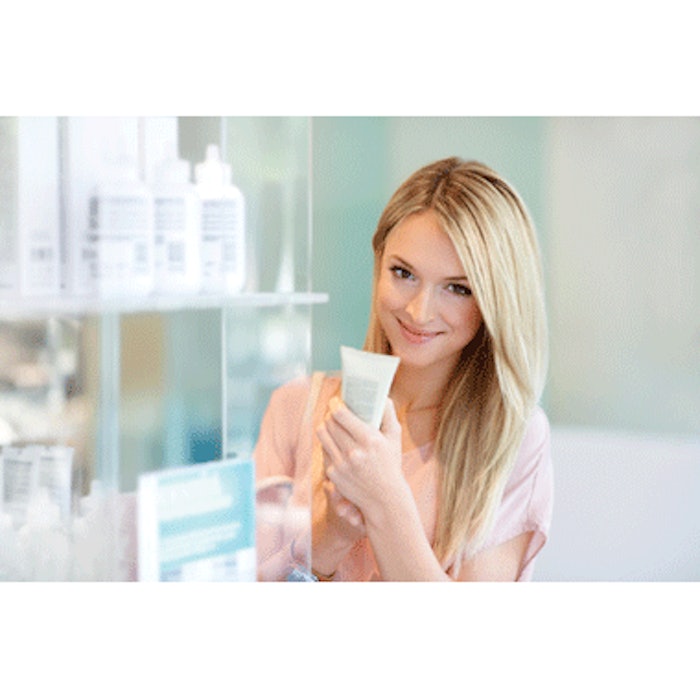 Branding and marketing are key components to building a successful medical aesthetics practice. An investment in a private label, physician-branded skincare line that carries your logo is a logical extension of your practice's offerings. You can choose the products and ingredients that you feel are most effective. Patients will need to purchase the products directly from your practice, which helps to build loyalty and provides more opportunities to cross-sell services. Additionally, private label products can offer a more attractive profit margin than branded lines.
Regardless of the type of product line you choose to private label, the mark-up is entirely up to you, based on your wholesale, development and marketing costs. (For example, your physician-branded eye cream may cost $15 per item from production line to shelf. If you mark it up to $90 and give a 10% commission to your staff, you still net $66). The mark-up on these products can be 300% or more, depending on what the market will support.
"Many brand name products that are sold in a physician's office are also available directly through the Internet, or they can be purchased from any other physician carrying the brand resulting in price wars," says Jim Krulisky CEO of Dermesse Skin Care (www.dermesse.com). "A private label product is only available at your office. There are no price wars. There is no losing of sales to the internet."
Types of Private Label
There are three different levels of private label from which to choose. Finding the right fit for your practice depends on your projected volume, budget and desired level of involvement in the development process.
Image copyright istockphoto.com
[PAGEBREAK]
Basic private label companies offer existing products and lines that can be labeled with your logo. The manufacturer does not alter the formula, but simply places your name and logo onto the packaging. This is the most affordable option, allowing you to launch a physician-branded line for less than $5,000, and can include a full line of products or SKUs.
Custom skincare lines allow you to work with a company's research and development team to tweak existing products by incorporating specific ingredients into the formulations. In addition, you can further customize your products with designer packaging, which costs about $2 and up per jar or bottle. Rates for this option typically start at $10,000 and go up based on the number of products created and the minimum packaging orders required. If you are required to purchase 5,000 jars, keep in mind that they do not need to be filled all at once and they can be labeled for different products.
Proprietary skincare lines ensure that you have unique products and/or ingredients that no other practice offers. You work directly with a chemist to create your products from scratch. Because this requires testing,
proprietary formulation is the most expensive option starting at around $20,000 and increasing based on the number of products you want to create and the type of testing required. For example, fees can range from $2,500 to $10,000 per product for development and extensive testing.
(NOTE: Co-branding with an established skincare company may be offered to practices or medspas with distinguished aesthetic services and retail success. This category of physician-branded products would link your name with the company's on the label of every product in the line.)
Choosing the Products
Before embarking on a private label or custom line, you will need to decide upon the number of cosmeceutical products you will carry under your own brand. You may choose to offer one specialty product targeting a specific condition or expand to a full retail line of up to 20 skin and body products.
Reviewing your existing retail sales can help you hone in on products that will be most successful in your practice. Look at your top-selling retail products as well as back bar products used in your treatment rooms to identify categories that are most popular with your patient base. Also consider the types of products your patients are requesting. Using a questionnaire at check-in can be a valuable way to identify your patients' wants and needs.
Other options to consider include choosing products with highly touted ingredients, such as collagen-stimulatingpeptides, growth factors, acids or cutting-edge product delivery systems.
Launching just one standalone "Hero" product can start to make you a skincare authority. This is also a good way to get your feet wet, especially if it is a specialty product that can retail in the top end of what your market will bear.
Offering kits or sets of products for specific skin types, such as acneic skin or mature skin, and for followup care after skin resurfacing procedures, is another effective way to enter the arena of physician-branded skin care.
[PAGEBREAK]
Marketing Your Brand
Launching a private label line is a powerful way to build your brand, but it does involve much more than choosing the products and designing a label. You will also be responsible for marketing the new line and training employees on active ingredients and benefits.
"With a completely customized line, the doctor becomes his own skincare company and that is how you need to think of it," says Shawn Dudley, exectutive director of Shantel Skin Care (www.shantel.com). Skincare manufacturers spend a lot of money each year marketing their brands and training practices on how to retail said lines. With private label, your practice will need to take on many of these duties. Private label and custom skincare manufacturers offer varying levels of support. Most offer graphic designers that can help you create your logo and product labels. Others offer in-office staff training on ingredients and product benefits as well as sales sheets that can be used to create marketing brochures and campaigns. Following are some of the steps you will need to take to successfully launch a private label line.
Develop a business and marketing plan, with financial projections to gauge capital and cash flow needs for labeling—hot stamping or silk screening—packaging, marketing and advertising, and the development of collateral materials, such as brochures
Complete research to identify and procure an effective physician-grade product line
Come up with a name and logo design for the products
Create a timeline to determine how long it will take to move from inception to implementation. Generally, you can expect the process to take a minimum of two months. For those opting to create proprietary lines, it can take up to nine months to complete testing, choose packaging, design labels and develop collateral materials.
One way to ease patients into the new line is to offer a mix of well-known branded products and private label products. "Branded products get people in the door and what they walk out with is your brand," says Ellen Clark, founder of Global Beauty Private Label Skin Care (www.globalbeauty.net). "For example a customer goes to CVS for an Olay product and walks out with a CVS brand product. It's all about positioning and marketing." She notes that patients can be converted from a name brand to a private label product that serves the same purpose quite easily. "This simply has to be explained to your client," says Clark.
Building Your Brand
Successfully launching a private label line starts with staff training and attractive merchandising. Create a Sephora-like "retail zone" near your reception desk with testers and informative materials. Make your products visually appealing by keeping them clean and fully stocked. Don't be afraid to turn to an expert to give you the goods on how to display your products in an eye-catching way since half the "sell" is in the "seeing." Depending on your budget and taste, your display space can be quite elaborate or tastefully simple. Place small displays of product in every room. Lucite boxes can be used throughout the practice to highlight products. This allows patients to start conversations about what types of skincare products they are currently using at home.
Your staff should be capable of discussing all of your product lines with patients. Take advantage of technology today and video your product training to create a sales training library that can be utilized by new hires. And don't forget to send patients home with samples and brochures.
You are in the perfect position to take advantage of the benefits private label has to offer, including increased revenue and a stronger relationship with your patients. Most of whom are more than willing to spend their skincare money with the aesthetic practice that provides the rest of their cosmetic services.
Cheryl Whitman is the founder and CEO of Beautiful Forver, a medical spa consulting firm, and the creator of the Aesthetics Medical Success System: A Complete Educational Guide to Building, Managing and Marketing Your Cosmetic Practice or Medical Spa. Contact her at 877.SPA.MEDI, www.medicalspasuccess.com.
[PAGEBREAK]
Private Label Partners
The following companies offer private label and custom formulation skincare products for medical aesthetic practices.
Biddiscombe Labs, 800.258.3313, www.biddiscombe.com
Clearly Beautiful, 866.704.8572, www.clearlybeautiful.com
Clinician's Complex, 800.826.4480, www.clinicianscomplex.com
Cosmetic Solutions, 888.883.0540, www.naturalskincare.com
Dermesse, 866.494.4466, www.dermesse.com
Global Beauty Private Label Skin Care, 866.290.4290,
www.globalbeauty.net
G.S. Cosmeceuticals, 925.371.5000, www.gscos.com
Shantel Skin Care Products, 626.358.7530, www.shantel.com
Topix Pharmaceuticals, 800.445.2595, www.topixpharm.com
Young Pharmaceuticals, 800.874.9686, www.youngpharm.com