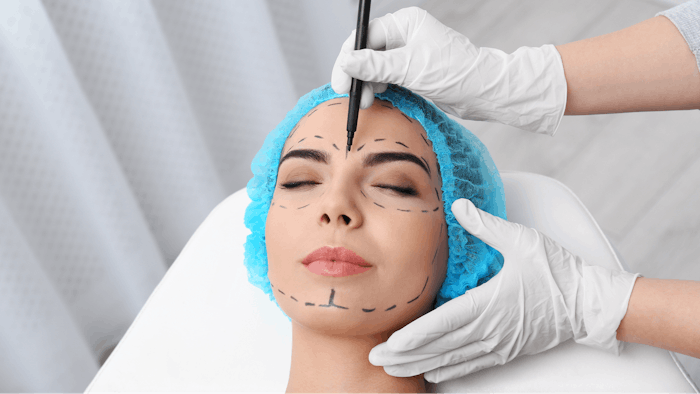 The American Society of Plastic Surgeons (ASPS) released the results of its annual procedure survey coupled with national consumer research reflecting the trends that occurred during the Covid-19 pandemic.
The ASPS's member-surgeons reported that for roughly 15% of the year they were not performing any elective surgical procedures (averaging 8.1 weeks). This supports the general decline the industry saw in the number of total procedures performed during 2020.
Related: AAFPRS Releases 2020 Annual Survey Results
Consumer Views on Plastic Surgery
ASPS analyzed the responses of more than 1,000 American women in a national survey fielded by market firm Equation Research that asked respondents how they feel about plastic surgery, the top treatments they were interested in and their likelihood to pursue a plastic surgery procedure.
Of the 1,000 women, 11% indicated they are more interested in cosmetic plastic surgery or nonsurgical procedures now than before Covid-19. This number is even higher for women who have already had surgery or a cosmetic procedure (24%). Of the women who previously had at least one cosmetic surgical procedure or minimally invasive procedure, 35% plan to spend significantly or somewhat more on treatments in 2021 than in 2020.
"The pandemic isn't over, but thanks to vaccines, a new normal is starting to define itself, and some surgeons' offices that were closed or offered only limited services within the last year are seeing higher demand," said Lynn Jeffers, MD, MBA, FACS.
Related: AEDIT Survey Shows Consumer Interest in Procedure Simulation Technology
The first wave of the pandemic showed increased demand for facial procedures in response to a significant surge in Zoom calls and more downtime for discreet recovery at home.
In looking toward 2021, the national survey results showed that abdominoplasty (22%) and liposuction (17%) are the two top procedures that women who are very likely to consider procedures within six months are seeking.
ASPS Top 5 Surgical Procedures of 2020
The ASPS saw a 15% decrease in the toal number of cosmetic procedures, which is largely due to the amount of time that practices were closed due to Covid-19. Of the most popular surgical procedures, it was noted that three of the five were facial surgeries.
Nose reshaping (352,555 procedures)
Eyelid surgery (352,112 procedures)
Facelift (234,374 procedures)
Liposuction (211,067 procedures)
Breast augmentation (193, 073 procedures)
Related: Aesthetic Society Releases Annual Statistic of Aesthetic Plastic Surgery
ASPS Top 5 Minimally Invasive Procedures
Minimally invasive cosmetic procedures decreased slightly more than surgical procedures (16% versus 14%) during stay-at-home orders. Injectables continued to be the most sought-after treatments in 2020, with ASPS member-surgeons citing a significant uptick in demand for these procedures during the pandemic. Many clients were eager to reschedule missed neurotoxin or filler appointments, and new patients were motivated for the first time to pursue minimally invasive facial treatments. In total, there were 13.3 million cosmetic minimally invasive procedures performed in 2020.
Botulinum toxin type A (4.4 million procedures)
Soft tissue fillers (3.4 million procedures)
Laser skin resurfacing (997,245 procedures)
Chemical peel (931,473 procedures)
Intense Pulsed Light (IPL) treatment (827,409 procedures)
Related: Helping Patients Combat Zoom Dysmorphia
ASPS Top 5 Reconstructive Procedures
Nearly 7 million reconstructive procedures were perfomred in 2020 (up 3% overall compared to 2019). Tumor removal was by far the most common reconstructive plastic surgery procedures.
"A major concern at the onset of the COVID-19 pandemic was continuing care for reconstructive patients," said Joseph E. Losee, MD, president of the ASPS. "Despite the year's challenges, patients and care teams were not only able to move forward with procedure plans when deemed safe to do so, but, in terms of breast reconstruction, more women than ever are benefiting from today's technologies and treatments."
Tumor removal (5.2 million procedures)
Laceration repair (386,710 procedures)
Scar revision (263,643 procedures)
Maxillofacial surgery (256,085 procedures)
Hand surgery (206,928 procedures)
"While many reconstructive procedures were prioritized as Covid-19 restrictions eased across the country, I'm encouraged that the society's members were able to quickly attend to patients in need of these surgeries – ranging from burn and wound care to migraine to pediatric craniofacial procedures – to improve their quality of life," said Dr. Losee.