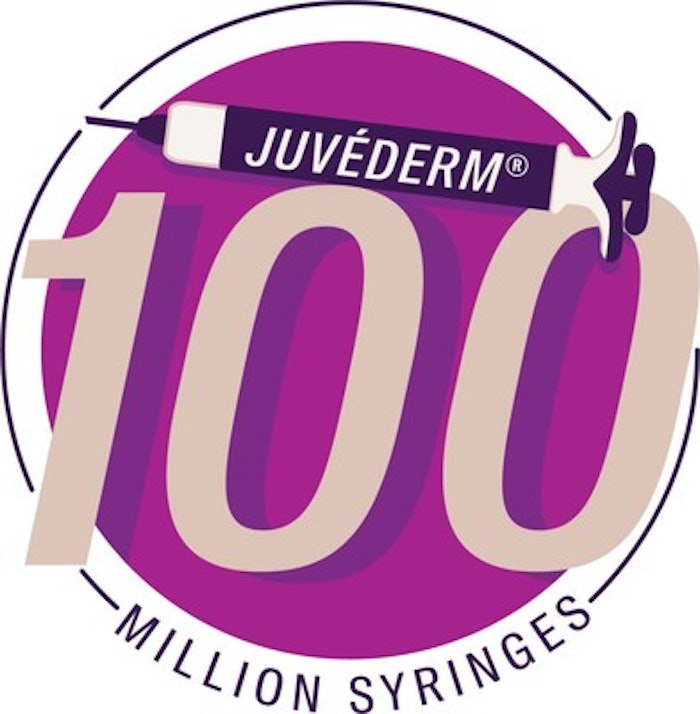 Photo courtesy of AbbVie.
Allergan Aesthetics announced its manufacturing facility in France has reached the milestone of producing and shipping 100 million syringes of JUVÉDERM products globally. 
Since its launch in 2000, the JUVÉDERM Collection of Fillers are now available in more than 110 territories worldwide and it remains the world's number one chosen dermal filler collection.
Related: Allergan Aesthetics Launches Double Point Promotion on JUVÉDERM Collection of Fillers
"This is more than just a number. 100 million JUVÉDERM syringes is a great source of pride for everyone at Allergan Aesthetics who helped make this happen," said Carrie Strom, president of Global Allergan Aesthetics and senior vice president of AbbVie. "It represents the millions of patients who've benefitted from our innovation and robust product offerings. We couldn't have done this without the years of support from all our healthcare professionals who continue to believe in and trust our products."
The global success of the product can be attributed to its wide range of minimally invasive treatment options, specifically designed for different areas of the face.
The JUVÉDERM Collection of Fillers offers products that provide long-lasting and natural-looking results for popular treatment areas, including the lips, cheeks and chin. The safety and efficacy of the JUVÉDERM Collection of Fillers has been demonstrated in more than 330 clinical studies.