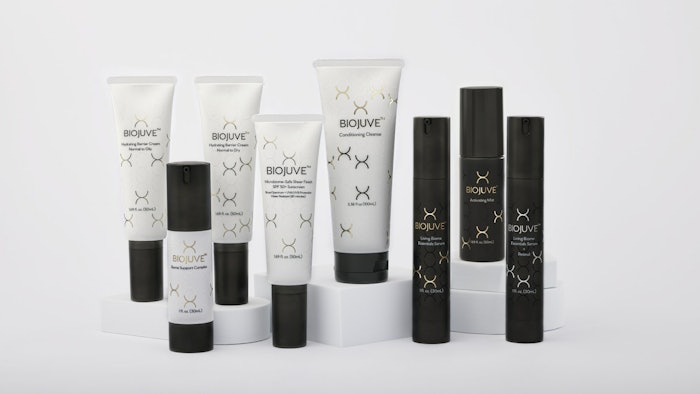 Photo courtesy of BIOJUVE
Crown Aesthetics announced the launch of BIOJUVE, a skin biome brand that uses a clinically-proven, living microbe technology to optimize the overall skin biome and lead to healthier, younger looking skin. 
BIOJUVE was created by skin scientists and is endorsed by internationally recognized board-certified dermatologists. The brand utilizes Xycrobe technology to naturally produce and deliver Bioessentials, such as proteins, polypeptides and antioxidants to optimize skin health and vitality. 
Related: Crown Laboratories Expands Role for Chief Financial Officer, Nadeem Moiz
"BIOJUVE's Xycrobe technology is a groundbreaking development in skin care and skin health," says Dr. Doris Day, a board certified dermatologist. "As a dermatologist who has consulted on product development for many brands during my career, I'm very optimistic about the possibilities BIOJUVE offers to better address our patients' skin conditions. Furthermore, the technology and deep-rooted science harnessed in BIOJUVE brings a new perspective to medical literature, the field of dermatology, and the wider topical skin care category."
This clinically-proven daily regimen optimizes the skin biome and creates significant improvements in the appearance of texture, tone, fine lines, wrinkles and photodamage. All BIOJUVE products work together to enhance the unique performance of the living Xycrobe technology, and to help the skin biome reach its full potential.
Products from the collection include the Living Biome Essentials Serum, Conditioning Cleanse, Biome Support Complex, two Hydrating Barrier Creams and Sheer Finish SPF 50+.