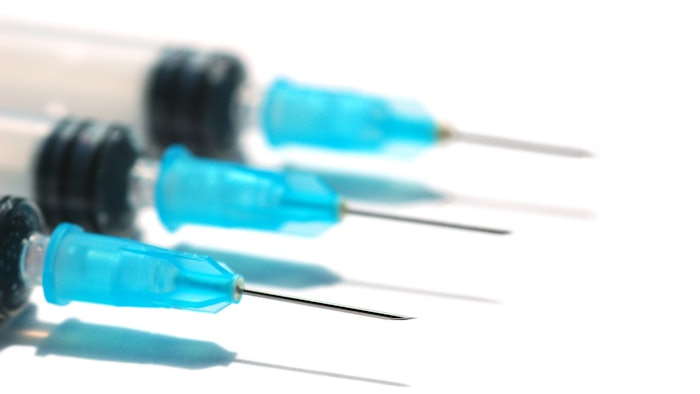 Repeated injections during soft tissue filler treatments damage needle tips, and the extent of damage is greater when injecting on the bone and when using larger gauge needles.
For "Deformation of Needle Tips During Facial Soft Tissue Filler Injections: An Electron-Microscopic Study" (Aesthetic Surgery Journal, December 2021), Mildred Lopez Pineiro, MD, et al, used scanning electron microscopy (SEM) image analysis to quantify changes in needle tips.
Related: Effect of Needle Size on Skin Penetration Force
They evaluated four differently sized needles following soft tissue filler injections for five different aesthetic indications (zygomatic arch, infraorbital, midcheek, nasolabial sulcus and perioral). Following treatment, each needle was visualized and imaged through SEM, and the percentage of deformation in relation to the total amount of needle tip surface was calculated.
Related: Rate and Type of Complications After Nonpermanent Facial Fillers
They found that the needle tip damage increased with the number of injection passes with an increase in damage of 4.7% with each dermal transition. Touching the bone during injection deformed the needle tip by 9.6% and an increase in needle size resulted in 0.13% more damage.
The authors noted that data on and awareness of needle tip damage with repeated injections may help improve both patient safety and comfort during soft tissue filler procedures.