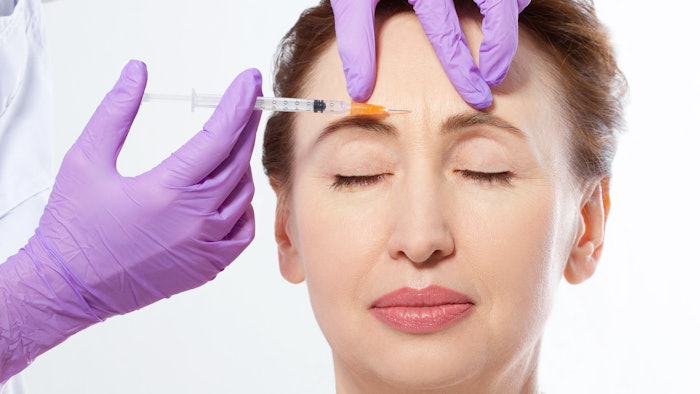 A new botulinum toxin, Letibotulinum Toxin A from Hugel, showed high efficacy and a strong safety profile for the treatment of glabellar lines in a randomized, double-blind, multicenter, placebo-controlled phase 3 study. The outcomes of the study, led by Daniel S. Mueller, MD, MBA, et al, were published in the Aesthetic Surgery Journal (February 2, 2022). The toxin also showed a fast onset of effect and results lasting over 100 days.
Related: FDA Accepts Application for New Botulinum Toxin
Letibotulinumtoxin A is derived from the C. botulinum strain CBFC26. The phase 3 clinical trial included 355 subjects with moderate to severe glabella frown lines. Each received injections with 20 U of letibotulinumtoxin A or placebo.
The investigators assessed glabellar line severity (GLS), onset and duration of effect, time to re-treatment and adverse events. Response to treatment was defined as a GLS score of 0 or 1 (assessed by the subject and investigator) and an improvement ≥2 points in GLS score relative at four weeks from baseline.
Related: [Botulinum Toxins] Tips To Reduce the Risk of Eyelid Ptosis
At four weeks post-treatment, 78.6% of the active treatment subjects were responders based on the investigator assessment, and 68.8% based on the subject assessment, compared to 0.0% in the placebo group. The median time to onset of effect was three days. Time until first re-treatment for the letibotulinumtoxin A group was 127.26 ± 65.6 days.
The treatment was well tolerated by all treatment subjects.