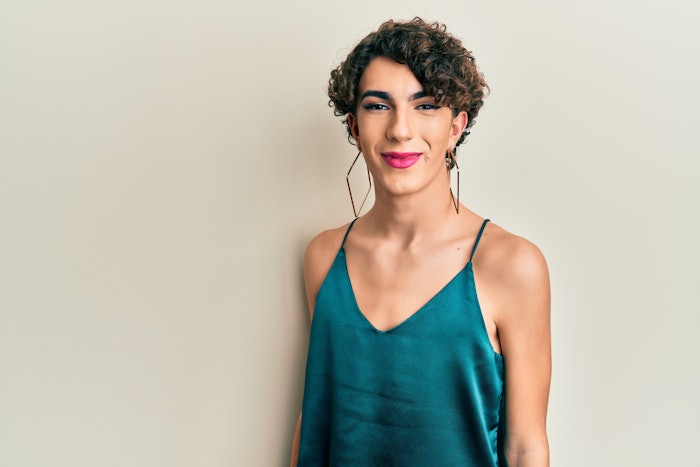 The LGBTQIA+ movement has come to represent acceptance, freedom and self-expression. Individuals of all genders are learning that there are non-surgical aesthetic treatments to help them look as feminine, masculine or androgynous as they prefer. While some individuals identify with traditional binary gender roles, others prefer to express themselves somewhere on the spectrum between feminine and masculine. No matter their gender, there are options for them, and the medical aesthetics community is here to support and advance these initiatives.
Related: Feminization of the Lower Jaw in Facial Gender Confirmation Surgery
Recent data from a Pew Research Center survey indicates a remarkable shift in the percentage of transgender individuals in the United States across generations. Among adults under 30, 5.1% identify as trans or nonbinary, with 2.0% identifying as trans men or trans women and 3.0% considering themselves nonbinary (neither strictly a man nor a woman). The percentage drops to 1.6% for adults aged 30 to 49 and further down to 0.3% for those over 50 years old.
One company at the forefront of gender-aligning treatments within medical aesthetics is Skinspirations, a cosmetic and regenerative medical practice that provides injectable and laser aesthetic treatments, professional skin care, body contouring, and regenerative treatments for aesthetic and musculoskeletal concerns.
Cynthia Elliott, M.D., owner and primary practitioner of Skinspirations, recognizes the urgency for transgender individuals to reconcile the conflict between their inner truth and outward appearance. For transgender individuals, minimally invasive cosmetic treatments can go a long way toward relieving their gender dysphoria by creating better harmony between their physical and innermost selves.
"The growing appeal and destigmatization of aesthetic medical treatments across all genders creates unique opportunities for clinicians to do their part in supporting transgender individuals on their lifelong journey of self-discovery and self-expression," said Elliott.
At Skinspirations, increasingly popular gender-aligning facial aesthetic treatments include enhancing masculine features by crafting strong chins and chiseled jawlines with horizontal brows or feminizing faces by permanently erasing facial hair and creating higher cheekbones, fuller lips, and tapered chins. These transformations are possible using injectable treatments, laser hair removal, and non-surgical body contouring.
Elliot continued, "I had a new patient who presented to me as a man; when I asked him what he'd like to change, he answered, 'I want cheeks like yours.' When I told him he would look very feminine if I gave him cheeks like mine, he answered, 'Exactly.' We both knew at that moment what his appearance goals were. Over the following months, we elevated his brows, tapered his chin with filler, and narrowed his jawline with Botox; one of my aestheticians even lent him a skirt. It was a gratifying project for all of us."