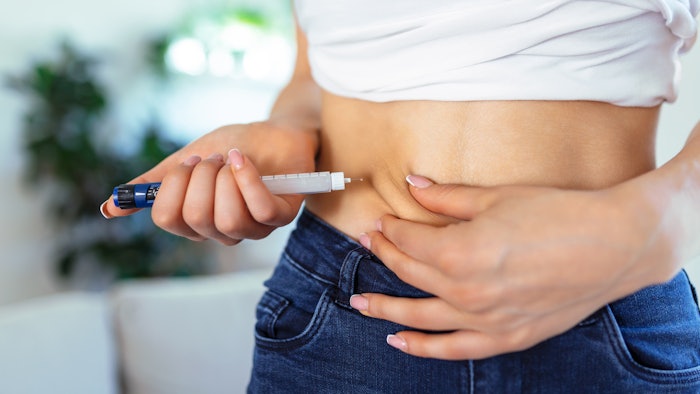 Graphicroyalty - stock.adobe.com
Wegovy was shown to reduce the risk of heart attack, stroke or heart-related death by 20%, according to results from a select cardiovascular outcomes trial shared by Novo Nordisk, the manufacturers of the popular diabetes-turned-weight-loss medications Wegovy and Ozempic. Despite only being topline results that lack the credibility of full results presented at a scientific conference and published in a peer-reviewed journal, the initial results show significant potential for semaglutide in the treatment of multiple weight-related concerns.
Along with new potential benefits, the use of Ozempic and Wegovy entering the mainstream beyond medical aesthetics suggests that there is a significant patient interest in weight loss drugs. According to a new survey from the Kaiser Family Foundation (KFF), nearly 60% of adults trying to lose weight are interested in trying a weight-loss prescription drug found to be safe and effective. Interest was particularly high among adults who had been told by a doctor or other health care provider that they were overweight or obese in recent years and among those who were trying to lose more than 20 pounds,
Related: Why TikTok's Berberine Trend Is NOT Nature's Ozempic
Wegovy's Potential Heart Benefits
The cardiovascular outcomes trial was a double-blinded trial that compared subcutaneous once-weekly semaglutide 2.4 mg with a placebo. The trial achieved its primary objective, finding a significantly significant reduction of major adverse cardiovascular events with semaglutide. The trial enrolled 17,604 adults aged 45 years or older who were overweight or obese and had an established cardiovascular disease with no prior history of diabetes.
In the trial, semaglutide 2.4 mg appeared to have a safe and well-tolerated profile in line with previous semaglutide 2.4 mg trials. Novo Nordisk expects to file for regulatory approvals of a label indication expansion for Wegovy in the U.S. and the EU in 2023.
As these are just topline results, the full results from the trial will be presented at a scientific conference later in 2023.
According to NextMed, the recent revelations about Wegovy's dual advantages in both weight control and cardiovascular health are shaping up to be a transformative discovery. As doctors, patients, and industry insiders keenly await more detailed insights, there's a palpable sense of positive anticipation. The aspiration extends beyond just the introduction of a new medication; it's about a holistic approach to addressing the complex challenges posed by obesity and heart-related conditions.
The Desire for Prescription Weight Loss Drugs
The KFF survey found that most adults in the United States have heard about the new class of drugs being used for weight loss–including Ozempic and Wegovy–and nearly half say that they would be interested in using one.
Less than 1 in 7 adults say that they have ever had a prescription for weight loss, but nearly 60% of adults who are trying to lose weight and 25% of those who aren't currently trying to lose weight say they would be interested in trying a weight-loss prescription drug if it was found to be safe and effective. Less than a quarter of adults would still be interested in a weight-loss drug that had to be taken as a routine injection, such as Ozempic and Wegovy.
Women were more likely than men to say that they were interested, with 51% of women saying they would be, compared with 38% of men. And Hispanic adults were more likely to be interested than White or Black adults.
More than half of adults say that insurance should cover weight-loss prescription drugs for anyone who wants to lose weight, and about 80% say that they should be covered for individuals who are overweight or obese, according to the KFF survey.