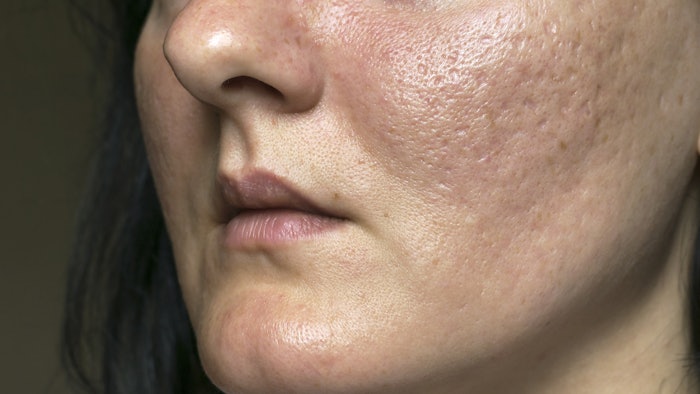 A clinical trial by Stephen W. Eubanks, MD, and James A. Solomon, MD, PhD, found that fractional radiofrequency (FRF) produces a statistically significant improvement in acne scarring, as published in the Journal of Lasers in Surgery and Medicine (September 2021). 
Related: Fractional CO2 with PRP Improves Acne Scar Outcomes
The objective of the clinical trial was to establish the efficacy and safety of FRF for moderate to severe acne scarring in a wide range of Fitzpatrick skin types. In the trial, two different applicator tips were used (80-pin of up to 124 mJ/pin and 160-pin of up to 62 mJ/pin). The enrolled subjects received a series of FRF treatments to the full face; each treatment was four weeks apart. A visual analog scale was utilized to assess pain of the treatment, and subject satisfaction questionnaires were completed at follow-up visits six and 12 weeks post final treatment. Photographs were graded by change by three blinded evaluatiors using the Global Aesthetic Improvement Scale (GAIS). 
Related: PMMA-Collagen Gel Filler Ideal for Acne Scar and Supraperiosteal Plane Treatments
Images from 23 enrolled subjects that were assessed  by blinded evaluation, showed statistically significant improvement (p = 0009) from the baseline visit to the 12-week follow-up on the GAIS for acne scarring. Subject satisfaction was high with subjects giving an average satisfaction score of 3.27 ("satisfied") out of 4. Pain was recorded as mild (average of 2.15 on a 10-point visual analog scale). The GAIS score of the 80-pin and 160-pin tip improved patients' acne scars by 1.06 points and 0.85 points, respectively. Roughly 95% of subjects reported either mild, moderate or significant improvement to their treatment area, and 91% of subjects reported that they would recommend the treatment to a friend. 
Related: Extractions vs. Oral Doxycycline for Acne Vulgaris
Independent blinded evaluators found the FRF treatment in acne scarring showed statistically significant improvement . There were no serious adverse events resulted from the treatment from either applicator tip. Treatment pain was low and tolerable among subjects of all Fitzpatrick sin types, and subjects had high levels of satisfaction with results.