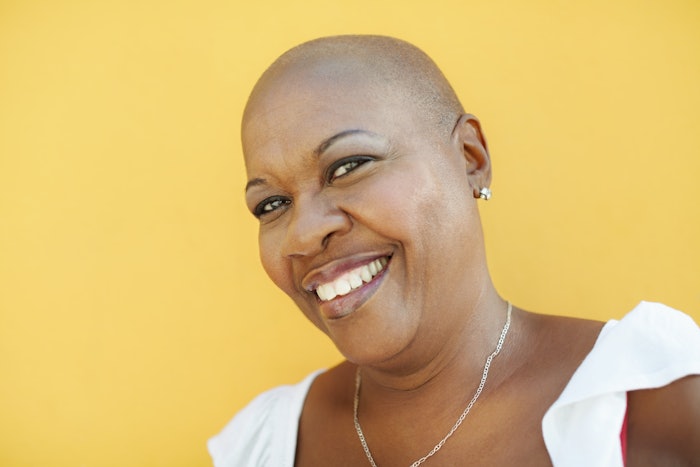 In a retrospective study presented at SCALE 2023 in Nashville, Tennessee, researchers found that platelet-rich plasma (PRP) can be successfully used to treat cicatricial alopecia (CA) in patients with skin of color, according to a report from Dermatology Times. All of the patients in the study were Black/African American women with an average age of diagnosis at 57 years old (total range was 40 to 72).
Related: The Connection Between Hair Loss in Women and Various Health Conditions
The study was conducted by lead investigators Chloé Walker, MD, MHS, and Porcia Love, MD, FAAD, for patients with skin of color, including Fitzpatrick skin types IV to VI, with a confirmed diagnosis of CA and who underwent platelet-rich plasma treatment at River Region Dermatology & Laser from 2016 to 2022. 
Walker is a clinical research fellow at River Region Dermatology & Laser. Love is a board-certified dermatologist and founder of River Region Dermatology & Laser, and a clinical associate professor at the University of Alabama School of Medicine.
PRP has previously demonstrated positive therapeutic results in nonscarring alopecia when it was injected into the affected area, but there is limited evidence on the efficacy of PRP in patients who failed first-line corticosteroid therapy for CA. Of the 11 patients observed in this study, 64% had been diagnosed with central centrifugal cicatricial alopecia (CCCA), 27% had been diagnosed with lichen planopilaris (LPP)/frontal fibrosing alopecia (FFA) and 9% had been diagnosed with nonspecific early scarring alopecia. Additionally, 64% of patients had concomitant androgenetic alopecia.
Per the study, after an average of four PRP sessions at 4-to-6-week intervals, 73% of patients showed improvements, including 75% with CCCA, 13% with LPP/FFA and 13% with nonspecific early scarring alopecia. There were no reported adverse events, disease progression or discontinuation of treatment.
Walker and Love concluded that the results were consistent with other studies, indicating that PRP may be effective in mild CA, concomitant AGA, and those with unsatisfactory outcomes from conventional treatment.
More: 5 Resources for Restoring Female Patients' Hair & Self Confidence [Survey Results]