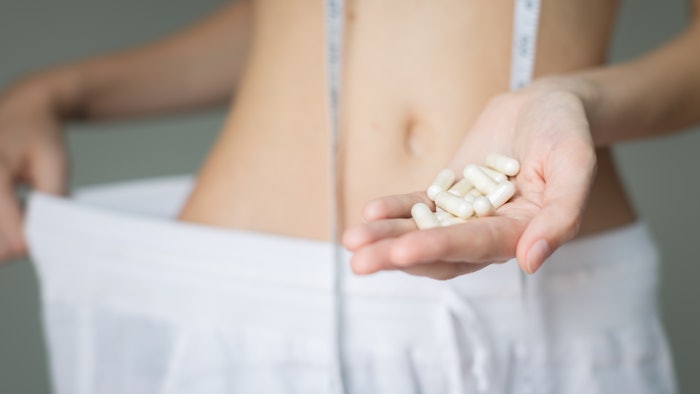 globalmoments - stock.adobe.com
FDA Approves Zepbound Injection for Chronic Weight Management
The U.S. FDA has approved Zepbound (tirzepatide) injections for chronic weight management in adults with obesity or overweight with at least one weight-related condition. The FDA recommends using the treatment in addition to a reduced-calorie diet and increased physical activity. Tirzepatide, the active ingredient in Zepbound, is already approved under the trade name Mounjaro to be used along with diet and exercise to help improve blood sugar (glucose) in adults with type 2 diabetes mellitus.
The approval was based on results from the phase 3 SURMOUNT-1 and SURMOUNT-2 trials. In SURMOUNT-1, a study of 2,539 adults with obesity, or excess weight and weight-related medical problems not including diabetes, people taking Zepbound as an adjunct to diet and exercise experienced substantial weight loss compared with placebo at 72 weeks. At the highest dose (15 mg), people taking Zepbound lost on average 48 lb., while at the lowest dose (5 mg), people lost on average 34 lb. (compared to 7 lb. on placebo), per the report. 
Related: Lexaria to Conduct Human Clinical Study on DehydraTECH-CBD for Weight Loss
Zepbound should be used with a reduced-calorie diet and increased physical activity. Zepbound should not be used with other tirzepatide-containing products or any GLP-1 receptor agonist medicines, and it has not been studied in patients with a history of pancreatitis, or with severe gastrointestinal disease, including severe gastroparesis.
"Despite our knowledge of obesity as a treatable, chronic disease, people living with obesity still face many challenges in their health and weight management journey," said Joe Nadglowski, president and chief executive officer of the Obesity Action Coalition. "New treatment options bring hope to the many people with obesity who struggle with this disease and are seeking better options for weight management."
Positive Clinical Results for New Obesity Drugs
Caliway Biopharmaceuticals has revealed the topline results of the CBL-0202 stage 2 phase 2 study, finding that the results met all the primary and secondary efficacy endpoints compared with placebo in the ITT (Intent-to-treat) and PP (per-protocol) analysis population. Overall, the safety and tolerability profiles of CBL-514 demonstrated in the study were favorable and consistent with previous clinical studies of CBL-514, per the report. Major TEAEs were ISRs (injection site reactions) that were mild and moderate and most TEAEs were resolved before the end of the study visit.
Viking and Biohaven both announced that positive presentations of their clinical trials were presented on October 15, 2023, at The Obesity Society's annual ObesityWeek conference held in Dallas, TX.  
Phase 1 single ascending dose (SAD) and multiple ascending dose (MAD) clinical trials of VK2735 conducted by Viking Therapeutics, Inc. were featured in an oral presentation at ObesityWeek 2023, the annual meeting of The Obesity Society. VK2735 is a novel dual agonist of the glucagon-like peptide 1 (GLP-1) and glucose-dependent insulinotropic polypeptide (GIP) receptors in development for the potential treatment of various metabolic disorders such as obesity.
Highlights from the oral presentation include newly reported data demonstrating that 28 days of once-weekly treatment with VK2735 resulted in reductions in subjects' liver fat content and plasma lipid levels, both from baseline and as compared to placebo.
Biohaven Ltd. announced the presentation of preclinical data demonstrating the ability of taldefgrobep alfa to significantly reduce fat mass while increasing lean mass in an obese mouse model. Separately, data supporting the correlation between change in waist circumference and change in total body weight among adults living with overweight and obesity treated with approved anti-obesity medications were reported.