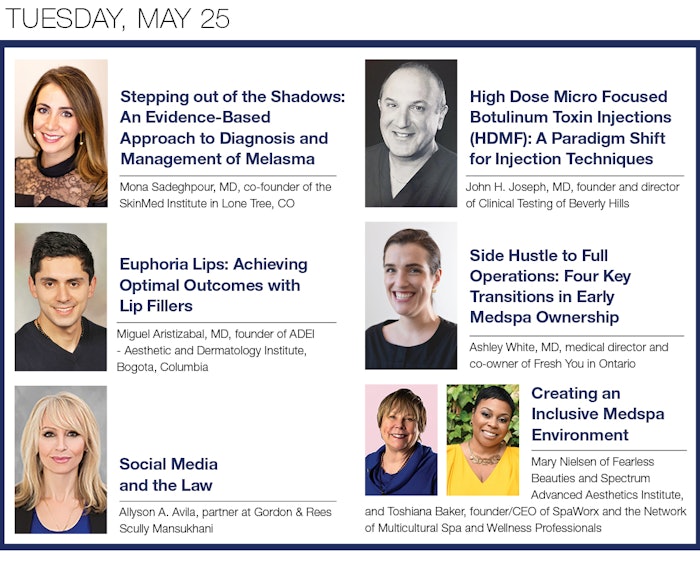 TUESDAY, MAY 25
Stepping out of the Shadows: An Evidence-Based Approach to Diagnosis and Management of Melasma
Mona Sadeghpour, MD, co-founder of the SkinMed Institute in Lone Tree, CO
Euphoria Lips: Achieving Optimal Outcomes with Lip Fillers
Miguel Aristizabal, MD, founder of ADEI - Aesthetic and Dermatology Institute, Bogota, Columbia
Social Media and the Law
Allyson A. Avila, partner at Gordon & Rees Scully Mansukhani
High Dose Micro Focused Botulinum Toxin Injections (HDMF): A Paradigm Shift for Injection Techniques
John H. Joseph, MD, founder and director of Clinical Testing of Beverly Hills
Side Hustle to Full Operations: Four Key Transitions in Early Medspa Ownership
Ashley White, MD, medical director and co-owner of Fresh You in Ontario
Creating an Inclusive Medspa Environment
Mary Nielsen of Fearless Beauties and Spectrum Advanced Aesthetics Institute, and Toshiana Baker, founder/CEO of SpaWorx and the Network of Multicultural Spa and Wellness Professionals
Wednesday, May 26
Institut DERMed Clinical Skincare: The No. 1 Chemical Peel For Skin Transformation
By Lyn Ross, L.M.E.
Aerolase: Modernizing Laser Therapy with the Neo Elite
By Ashlee Bunkelman
ilike organic skin care: Effective Results with Organic Herbal Actives and Biotechnology, Really!
By Linda Arthur
Sorella Apothecary: The Art of Facial Massage
By Rebecca Olpin
DMK - Danne Montague: Modern Combinations of Medical/Aesthetic Procedures
By Danné Montague-King
PCA SKIN: 5 "Must-Have" Correctives That Work Better Together
By Dawn Ahearn
Lira Clinical: The New Carboxylic Solution: Lira Clinical's Pure Peel
By Metaxia Dalikas, LE
Celluma Light Therapy: LED Light Therapy: A Medical Esthetics Must for 4 Reasons
By Patrick Johnson
Face Reality Skin Care: 5 Tips for Treating Fungal Acne
By Alex Hernandez, LE
TIZO by Fallene: What's All the Buzz About TIZO Mineral Sunscreens and Skincare?
By Amanda Barretta
Oncology Spa Solutions: Restorative Skincare
By Becky Kuehn