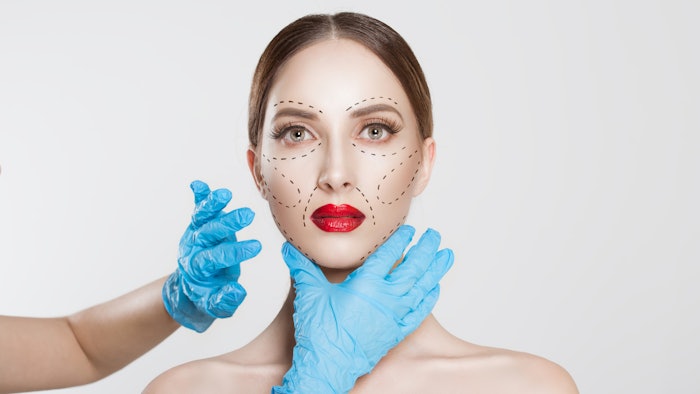 The American Academy of Facial Plastic and Reconstructive Surgery (AAFPRS) released its 2022 member survey outcomes. With in-person work, events and socializing moving towards a return to pre-pandemic levels, 2022 saw an increase in demand for facial plastic surgery and cosmetic treatments. 
It was revealed that 58% of AAFPRS facial plastic surgeons experienced an increase in bookings and treatments over the last year, with more than 75% indicating they have seen a rise of more than 10% in patient demand. 
The 2022 AAFPRS annual member survey was conducted in Dec. 2022 by ACUPOLL Precision Research, Inc. through an online survey from a select group of the organization's 2,200 members.
Related: The Most Popular Men's Cosmetics Trends in 2023
Annual Plastic Survey's Aesthetic Trends
1. Back to Reality
"As people returned to the office and eased back into the routine of daily life without quarantine, interest for elective surgeries and non-invasive 'tweakments' remain high," shares AAFPRS' President, Theda Kontis, MD. "In 2022, our members continued to see the impact of the "Zoom Boom," with 79% of respondents pointing to the "Zoom Effect" as a major contributing factor in patients' desire to seek treatment." A second source of motivation, following closely behind the Zoom Effect at 60%, was an increase in disposable income. "Many patients reported spending money saved during the pandemic on cosmetic procedures," said Kontis. 
According to the data, 82% of the total number of procedures performed in 2022 were minimally invasive; the remaining 18%  were surgical. Of these, the three most common treatments were neurotoxins, fillers, and topicals, while the top three surgical procedures were facelifts, blepharoplasties and rhinoplasties. Rhinoplasty continues to be the single most requested surgery among patients under 34-years-old.
It is still no surprise that women continue to reign when it comes to undergoing facial plastic surgery. In 16 of the 18 procedures tracked, surgeons indicate more of their patients are women, with the exceptions of hair transplantation, which skews toward men. Otoplasty, surgery to diminish ear prominence, has the highest gender equality.
2. The Buzz About Buccal Fat
The sculpted, chiseled look is in Vogue once again, with 15% of facial plastic surgeons reporting an increase in buccal fat removal to achieve a slimmer facial appearance. The most headline-making trend of 2022, the intentional removal of buccal fat has taken Hollywood by storm. 
"Buccal fat surgery is not reversible–so while you may love the look in your 20s and 30s, as you age, your face naturally loses fat, and therefore volume," says Dr. Kontis.
Related: Buccal Fat Removal: What is it and Why is it so Popular?
3. Selfie Satisfaction
The media has been quick to brand the phrase "Snapchat dysmorphia" in regards to Gen Z seeking treatments and "tweakments" aimed to mimic Snapchat filters. In reality, though, Gen Z's influence in the aesthetic marketplace is not yet generating leaps in facial plastic surgery procedure numbers. Consistent with 2021, close to 75% of facial plastic surgeons report increases in the number of patients under 30-years-old requesting cosmetic surgery or injectables, representing a consistently higher plateau over the five previous years.
"Pre-juvenation" and little-to-no downtime is still top of mind for these age groups; 78% of AAFPRS members believe there will be a greater emphasis on earlier maintenance and age prevention starting in the 20s and 30s to forestall bigger procedures and surgeries for later down the road. This year's survey indicates that surgical procedure activity sees significant increase once patients reach the 35 to 55 year age group.
79% of facial plastic surgeons agree that looking better in selfies continues to trend upward. To that end, lip lifts, a new category for the 2021 survey, were up three percent in 2022; at least 73% of AAFPRS members performed lip lifts in 2022 versus 70% in 2021. As facemasks continue to become less and less prevalent, this intel doesn't really come as a surprise. The trendy procedure aims to remove some skin under the nose in order to shorten the skin of the upper lip, overall increasing the amount of visible pink lip.
"We lose bone under the nose as we age, which can cause the nasal tip to droop and the upper lip to elongate. In other words, 'the table becomes too small for the tablecloth,'" says Dr. Kontis. "By removing this excess upper lip skin, it shortens the upper lip skin and everts the upper lip, which results in a more youthful appearance."
Another selfie-boosting procedure, the blepharoplasty, has seen an upward climb in popularity, with "blephs" sitting just behind rhinoplasty as the most-requested procedure of 2022. "Upper blepharoplasty removes the excess skin above the eyelid, reducing that hooded appearance that can occur naturally with age, while lower blepharoplasty targets the fat pads below the eye, restoring a smoother, more youthful look," says Kontis. "Both are relatively minor procedures that lend themselves to tremendous patient satisfaction."

Key Takeaways
Whether patients are considering significant surgery or a trendy "tweakment," choosing a qualified surgeon is a non-negotiable. Steve Jurich, CEO and Executive Vice President of the AAFPRS advises, "Finding the right, most qualified, physician to perform any procedure is priority number one. Always select a surgeon specifically trained in procedures of the face, head, and neck and make sure the physician is qualified, experienced and board-certified in the procedure you want."
Just 20% of surgeons report patients referencing celebrities when coming in for consultations, which points to a more educated consumer base, thanks to the multitude of candid plastic surgery depictions on social media and the prevalence of data driving individual research.